Trip Style:

Community Eco Trek

Ways to Travel:

Flight, Driving, Hiking

Activities:

Trekking

Group Size:

2-12

High Altitude

3660 m
Activity Level:
Moderate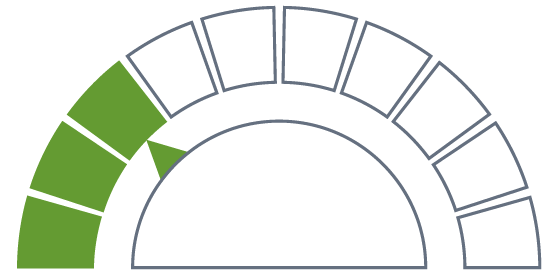 Trip Overview
The Annapurna Region is famous for the Annapurna Circuit or the Annapurna Base Camp trek however we like to promote more peaceful off the beaten trek called Annapurna-Dhaulagiri Community Trek- Originally developed by award winning social entrepreneur-Mahabir Pun.
This off the beaten trek leads you away from the crowded paths. It combines all the beautiful things trekking in Nepal is famous for: Beautiful mountain views, small traditional villages, rice fields and huge rhododendron forests.
Mohare, Khopra and Muldai Peak offer jaw-dropping views with panorama that highlights Fishtail, Annapurna South and Dhaulagiri ranges at sunrise and sun set.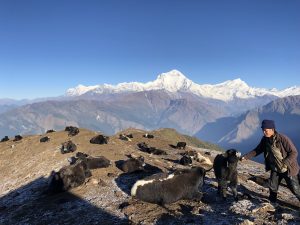 Trip Highlights
Starting From : Pokhara
End at : Pokhara
Duration :10 Days
Grade : Moderate – Difficult
Max. Elevation : 3660 m
Activity : Trekking Adventure
Best Season : April to November
Himalayan sights : Annapurnas, Fish Tail, Himchuli, Nilgiri, Dhaulagiri etc

Panoramic Himalayan view from Poon Hill, Muldai Hill.

Clear near and majestic view of Mt. Dhaulagiri, Nilgiri and Annapurna.

Gurung Authentic Heritage Cultural and casual life style.

Variety of Flora and Fauna of Temperate and Sub- temperate climatic region of Nepal.

Different rivers, valleys and river basins.
Detailed Itinerary
Day 1

Kathmandu Drive to Pokhara- Optional Rafting in Trisuli River Big Pillow Inn, Lake Side Pokhara

After breakfast this morning we leave Kathmandu and travel around 60 Km to the starting point of Rafting. Charaudi or Malekhu depending on water Level after monsoon. After guide briefs about raft and river, the trip hits a few class 2 or 3 rapids and then we stop for lunch. After Lunch white water hits a class 2 to 3 rapid and travel overland to Pokhara, a stunning lakeside town with incredible mountain views, 200 km west of Kathmandu. On our way, we drive along the banks of the Marshyangdi River, past stunning traditional villages, terraced fields and if the weather is good we will have some fantastic picturesque views to the Himalayan Range.

Distance: 200 Kilometers, Duration: 5/6 hours, Altitude: 827 meters

Day 2

Drive from Pokhara to Galeshwor & trek to Bas Kharka (825m/2706ft, 3hrs) Community Lodge

Starting from Pokhara, you are driven to Galeshwor, where you start your trek. Heading up to Bas Kharka, you pass scattered farmhouses, climbing through the forest and then orange groves as you approach this attractive village. You will have time to explore this Magar village, maybe visit the school and health post, and in season, enjoy the sweet oranges that grow on the hillsides here. (825m; 3 hours).

Day 3

Trek from Bas Kharka to Nangi (2300m/7544ft , 4-5hrs) Community Lodge

Today we have an easy day of 2-3 hrs down the hill to Dandakharka community lodge.Along the way you will come across clearing in the rhododendron forest where the local villagers from down the mountain for different purposes . Dandakharka is a lovely but basic community lodge set in an open field.

We leave the beautiful place of Dhanda Kateri behind and trek towards the overlooking valleys. We stop by lunch on the way . After lunch, it is a leisurely walk on to Nangi, the main village where you will spend the night. Here you can visit the school, see how the villagers make paper from the locally grown plants, visit a medicinal plant nursery, and a number of other income-generating projects.

Day 4

Trek from Nangi to Mohara Hill (3300m/10824ft , 7hrs) Community Lodge

We can start bit early and take rest on the way.We climb through forest, with stunning views of the mountains. Upon the top of Mohare Hill, you can see the Himalayas stretching as far as the eye can see, with close-up views of Macchupucchre (Fish Tail Mountain) and Dhaulagiri. Surrounded by forest, don't be surprised to meet yaks grazing nearby. There is no village here, but here is the highest wireless internet relay station in Nepal, providing internet to the remote villages for schools and health posts that use tele-medicine, linking up with hospitals in Kathmandu to provide better healthcare in the villages.

Day 5

Trek from Mohare Hill to Swantha 2400m [5-6 hours] Local Tea House

A fantastic ridge walk, with marvellous views in every direction, We have a steep ascent to get us going and then a more gradual uphill walk takes us to our camp at Ghorepani. We will pass through some delightful villages and the beautiful, dense rhododendron forest so characteristic of Nepal at these altitudes! If the weather is clear we will see the stunning views from Ghorepani , making the climb well worth it . At Ghorepani , we are on the main Annapurna Circuit route and there likely to be many travelers passing through the ridges – top settlements in both directions. Ghorepani literally means "Horse water" and is a popular stopping place for the mules trains which ply the route from Pokhara to Jomsom and beyond. The impressive peak, which can be seen across the broad valley of the Kali Gandaki to the northwest, is Dhaulagiri. We stop by lunch at Ghorepani before we trek another 2 hours to Swanta downhill.

Day 6

Trek from Swantha to Upper Chistibung (9761ft/2,975m) [4 hours] Community Lodge

Today from Swanta we trek uphill towards the Chistibung.Few hours we walk before we reach river. There we take a rest and then we ascend to the hillside and continue up steeply hill. You will retrace the route to Chistibung. We then take our lunch break here before we resume our trek towards the Khopra Danda. This should take another 2-3 hours. we stay here overnight in the newly constructed lodge. We come across schools supported the local income from trekkers , and there is time to pay visit, and perhaps interact with the kids. In the morning we get the stunning view of sunrise.

Day 7

Trek from Upper Chistibung to Khopra Danda (12,007ft/3,660m) Khopra Community Lodge

To reach the ridge at Kopra, you will embark on a steady climb that carries you above the tree line. This area is noted for wildlife, so you should keep your eyes open for Himalayan tahr and Danfe pheasant. The best way to tackle the climb is to ascend steadily, take your time and rest as often as you wish.You will reach the lodge on Kopra Ridge in time for lunch and will be greeted by more awe-inspiring views. This extraordinary panorama includes Annapurna South, towering directly above you at only six kilometres away, with Fang and Nilgiri prominent to the north. Across the depths of the Kali Gandakhi Valley, the Dhaulagiri Himal dominates the entire western skyline. The Kopra Community Lodge is the highlight of our work in the region.

Day 8

Trek from Khopra to Dobato-Upper Route (11,220ft/3,420m) (5-6 hours] Local Tea House

Today is comparatively easier than other days.We descend gradually on the trail through ridges. We than hike straight through the ridge with view of Villages and Mt Dhaulagiri and Nilgiri. If you're lucky you might even spot the colorful Lophophorus (Danphe), the national bird of Nepal, as well as Himalayan Thar on the grassy ridge high above the trail.

We then stop by Bayali Kharka for lunch before we resume our trek to Dobato which is about 2 hours approx.

Dobato used to be a temporary settlement for nomads who come here to graze domestic animals. It has magnificent view of Mt. Fishtail , Mt. Annapurna South , Mt. Himchuli etc.

Day 9

Sunrise from Muldai Peak- Trek to Tadapani [4-5 hours] Local Tea House

You'll have an early breakfast in Dobato and then begin the climb to Muldai View Point for a magnificent panorama view at sunrise which is about 15 to 20 Minutes. From here, you'll descend through open ground back to Dobato to have breakfast.

Enjoying great views of Machhapuchhre (Fishtail), Annapurna South, and the Himchuli peaks, we again descent through forests leaving Dobato back.

From here, you'll continue on the trail downward through some dense rhododendron forests. This blossom is Nepal's national flower and during spring months, when the trees are in full bloom, the forests turn into gardens of vibrant displays that look especially breathtaking against snow-capped mountains in the distance.

After trekking over a small pass, you'll reach Tadapani where you'll get to enjoy more of those excellent views. Many friendly Tibetans live in the village and they'll likely be out and about selling trekkers items to take back home as souvenirs.

Day 10

Trek till Ghandruk [3 hours] and Drive to Pokhara [3 hours] Hotel

After breakfast we continue on the trail downwards through Baisi Kharka and into some rich forests. We also come cross some beautiful water fall and small rivers.

Once we come out of forest, we reach Ghandruk most comprised of several teahouses most "Gurung" Culture influenced. We have lunch in one of the beautiful teahouse at Gurung Cottage where you get one of the best "Dhalbhat".

After lunch we drive to pokhara because most of trails are pitched all the way to Pokhara these days.

This is about 3 hours drive.
Inclusions & Details
Cost Inclusion
All Private Transfer
1/2 day Rafting Trisuli River
08 Nights – 09 Days Full Board Trek
One cycle of meals (Main Course only)
Accommodation in Teahouse with Common Bathroom in Twin Sharing Basis
ACAP and TIMS Card
1 Govt. licensed; experience Trekking Guide and 1 porter for every 2 person
Private transport to/from trek start/end point
Meals, Accommodation, Transportation, Salary as per TAAN, Staff PAN tax as per Govt. rule, Insurance etc for Nepali staffs
First Aid Kit with Basic Supplies appropriate for Trek Route & Group Size – If you require specific Medications, you must inform us before the Trip-departure
Tourism Tax and Govt. VAT 24.3%
Cost Exclusion
Emergency evacuations and insurance
Hotels in Pokhara
Lunch & Dinner in Pokhara
Personal clothing and equipment
Personal Beverages, Mineral water, Starters,Deserts, Hot shower, Laundry, Battery charging
Unforeseen expenses due to Political Unrest or Natural Calamities etc.
Tips
06 Request A Quote
For Queries & Reservations
Group travel is a great way to discover new adventures and create memories that last forever . Choose your trip with guaranteed departure dates and join us now.
Chhewang N.Lama +977-9801046333 / +977-1-4813166
info@responsibletreks.com