Trip Style:

pk4

Ways to Travel:

Guided

Activities:

Trekking

Group Size:

2-12

High Altitude

5151 M
Activity Level:
Challenging
This trip is challenging trip for your life and adventure
Trip Overview
Discover Nepal's majestic region of Dolpo. This remote area, made famous by Peter Matthiessen's book 'The Snow Leopard,' has only been open to trekkers since 1989. Its most alluring attraction, Phoksundo Lake, is sacred to Buddhists and followers of the Bonpo religion.
The deep valleys, high passes and peaks, the turquoise Lake Phoksundo, the 800-year-old Shey Monastery and some rare wildlife—including the elusive snow leopard—reward intrepid trekkers who visit here.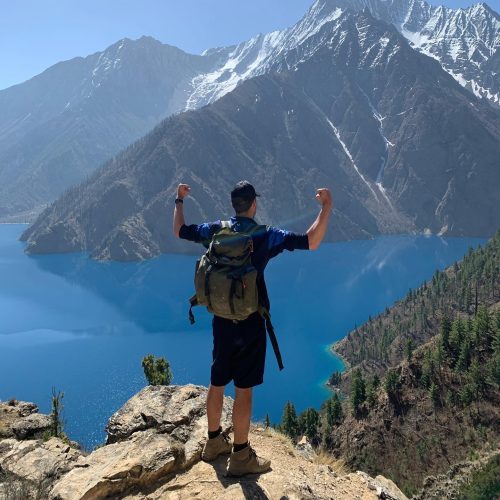 Our journey begins with a spectacular flight along the Himalayan range to Juphal then trek to our horsemans' village, passing through the still surprisingly rustic headquarters of Dunai. The next few days to the villages of Dho-Tarap are in a rough and deep gorge that will become a road in a few years, although work has yet to start, and so another reason for this "before it's gone" trek. Then we venture off the beaten trail for our exhilarating exploration of the multiple passes that lead to Upper Dolpo and head the long way around Phoksundo Lake, including a few additional days for exploring.
On our 18 days camping treks we pass through authentic villages, beautiful landscape and we meet wonderful people.
Detailed Itinerary
Day 1

Welcome to Kathmandu! Hotel

It's a beautiful flight into the Kathmandu Valley with views of the Himalaya and terraced valley floor. Upon arrival at Tribhuvan International Airport, one of our representatives will greet you and transport you to your hotel.

Depending on your arrival time, you'll have time to explore the city. Some popular sights include Kathmandu's Durbar Square and its narrow alleyways teeming with small shops, ancient temples, and local restaurants. There's also Swayambhunath temple, where you can watch the sunset over the valley and the Himalaya to your north.

The tourist hub of Thamel is a good place to grab your first meal, with a variety of restaurants to chose from offering both Western and local Nepali dishes. Then, if it's not too late, head to the busiest bazaar in the city, Asan Tole, which offers an authentic display of spice, fish, and vegetable stands that make for great photo ops. Practice some basic Nepali phrases and chat with friendly locals!

We will brief you about the journey that starts tomorrow. You can do some last minute shopping for the trek in Thamel

Day 2

Sightseeing and evening fly to Nepalgunj Hotel

Your sightseeing of this ancient city begins at around 8:30 am, after breakfast. A specialized tour guide and a comfy private vehicle will be available for your assistance. First we will visit the biggest Hindu temple of Nepal, Pashupati Nath, which predates to Lichhavi period. Then, to Boudha Nath, and Swayambhu Nath, shrines of lord Buddha, uniquely built in Shikhara style.

We will fly to Nepalgunj from Kathmandu (55 minutes). After a tiring day, you can spend the evening in your hotel or explore this vibrant city. It is a Sub-Metropolitan City in Banke District, Nepal. It lies on the Terai plains near the southern border with Border district in Uttar Pradesh, India. It is the major transport hub famous for exciting treks to Simikot (gate way to Mt Kailash and Mansarowaor lake), Dolpo plateau and Jumla-Rara region. The climate of Nepalgunj is hot and humid with the annual average tempreture of 27.4 degree centigrate and the average rainfall of 1175 mm.

Day 3

Fly to Juphal and Trek to Dunai Tea House

From Nepalgunj we will take a plane to Juphal, it's about 35 minutes long. After landing in Juphal, we will meet our trekking crew and walk through the green terraced fields along the Bheri River and through the narrow canyon. After three hours of trekking, we will reach a large village of Dunai, where we will spend the night.

Day 4

Dunai trek to Tarakot (2540m) 5-6 hrs Trek Full Service Camping

As the trek begins today, we follow the upstream trail that banks Bheri River. First part of today's trek is very pleasant as we trek along the levelled path occupied by beautiful landscapes in the neighbourhood. Almost a couple of hours of trek bring us to the settlement of Byasghar 2430 m. Exiting out of Byasghar, we continue trekking along the riverside trail that heads towards northeast direction. During this part of the trek, the trail most of the times flanks the river closely and at other time it climbs over

Day 5

Tarakot trek to Laini Odar (3375m)/ 4-5 hrs Trek Full Service Camping

As the trek begins today, we hike along the trail that lies on the southern bank of Bheri River. An hour long trek brings us to the open valley created by Bharbung Khola. Then the Phoksundo Nature Experience Trek heads east along the bank of Bharbung Khola. This part of trek brings us closer to Putha Huinchuli and Churen Himal. The trail beyond Bharbang Khola chases the easy steps that eventually bring us to Laisicap 2775 m. Now we cross the main river and begin to trek along the west bank of Tarap Khola. We head north until we arrive to Khanigaon 2950m. Khanigaon is the winter residence of the Dho-Tarap people. We can see the wonderful view of Sandul Gompa across the valley from Khanigaon. The final push on the steep uphill trail finally brings us to Laini Odar, which is a wonderful camping site with a beautiful waterfall nearby.

Day 6

Laini Odar trek to Nawarpani 3475 m Full Service Camping

Phoksundo Nature Experience trek today begins along the spectacular trail. As we head further from Laini Odar, the trail goes through the deep gorges with scary cliffs above them. After couple of hours of trek to the north from Laini Odar, the trail begins to become relatively open. A little bit of effort put to make the trail easier can be seen.

We now trek on the easy trail paved with wooden planks and flat stones that leads us to Chhyugar 3440m. Chhyugar lies at the bank of small stream which we cross and begin to trek along its western bank to Pibke or Nawarpani 3475m.
The final part of today's trek, which is couple of hours long brings us to Toltol 3530m. Toltol is a winter refuge for the people of Upper Dolpo. We will settle down our camps here for the overnight stay.

Day 7

Nawarpani trek to Dho Tarap (3950m)/ 6-7 hrs Trek Full Service Camping

One of the most interesting days of the trek is about to begin. The trek most of the times runs along the bank of Tarap Khola switching sides frequently. On the first part of the trek we hike along the northwest bank of Tarap Khola to Ghyamghar, a small settlement with a monastery. At Ghyamghar, we cross the river and begin to trek along the eastern bank to Sisaul. At Sisaul once again we cross the river to its western bank and begin to trek along the lonely valley.
As we arrive to Langa, we once again cross the river and follow its eastern bank that climbs to a small arid hill. The last part of today's Inner Dolpo Trek slides down from this small hill to Dho Tarap 3950m. Dho Tarap is a fascinating settlement that manifests the real attributes of Dolpo. This famous settlement of Dolpo nestles high

above a wide valley and was a famous trading point to the traders of Tibet and Mustang in the ancient days. We will settle down our camps at Dho Tarap for the overnight stay.

Day 8

Rest Day in Dho Tarap Full Service Camping

Dho has tea houses, shops with minimal supplies and lodges. The people closely resemble the Khampas of Tibet, the men with a ponytail and red tassel coiled around their head.

The women sport musk deer teeth necklaces. Dho Tarap has a maze of mud-brick Tibetan houses which was featured in Eric Valli's famous movie 'Caravan', the village where Karma and his band of young Dolpo-pa, and Thinley and his older group of Dolpo-pa, set off with their salt to trade for barley over the high passes. We will enjoy a nature tour and a cultural program consisting of traditional Tibetan dances and songs presented by the villagers.

Here we have few major sites that are worthwhile exploring around Dho Tarap.Including Ribo Bumpa Monastery & Drakmar Dewa Monastery, the vicinity around Dho Tarap has many other important monasteries which include Mekhyim Monastery, Dhoro Monastery and a Bon Gompa of Shipichowk among others. So make your decision wisely while choosing the monastery you prefer to explore from the pool of many.

Day 9

Trek to Tokyo and Murjung 4600 m Full Service Camping

We'll start for the ascent towards Jyanta la Pass, where we are treated to spectacular Himalayan views, worth all the effort put into the ascent. Descending, we follow the Choila Khola and enter into the broad Jyanta Khola valley, where we head for a fabulous campsite beside the massive chortens of Tokyu. Tokyu village, in Lower Dolpo, has well stocked shops and Tibetan tents fifteen minutes below our campsite, worth a trip out to pick up a few beers! Have a wash as the clear stream and have a rest after many strenuous Dolpo trekking days.

Day 10

Crossing Jyanta Bhanyang La to Samdo 4600 M Full Service Camping

The trail today is compacted which makes the walking easier today. But at times it gets very steep. It will only take 2 hours to reach the top of Jeng La. The view from here of the Dhaulagiri Mastiff is truly mesmerizing. After a rough trail downhill towards Samdo, we will find ourselves in a Tibetan valley.

Day 11

Trek via Sarung Khola to Namdo Full Service Camping

Following the dwindling river, the first few hours of the trek is going to be fairly easy. After two hours, we will cross another stream and then turn to a side valley. The climb from there is very steep. We will then reach a pleasant meadow, but it is bestrewn with rocks. After the five hour trek, night will be spent in overnight camp.

Day 12

Saldang with Monastery of Sherap Sangpo Full Service Camping

We will leave Namdo early in the morning . We will go through the village of Namdo, a prosperous village of 60 houses and 400 people.

A shorter day today, beginning with a brilliant traverse high above the Namgung Khola and then a steep ascent to the large Dolpopa village of Saldang. Saldang is close to the Tibetan border and the some of the salt trade Yak caravans are routed through here. This trading of Tibetan salt for rice from the southern lowlands is a vital, age-old practice which still prevails in Inner Dolpo. Saldang is really a collection of five separate villages and is the biggest settlement in Inner Dolpo. We set up camp in time for lunch and have the afternoon free to explore. Altitude at camp is 4070 metres.

Day 13

Cossing Sela La to Shey Gompa (4300 m) Full Service Camping

We will start the day by trekking along a pleasant track covered with juniper shrub. We will ascend up to a stony gray canyon. It begins with a zigzag trail of rocks and eroded soil and it will bring us to the flat spot, suitable for a little picnic. After 20 minutes of some steep climbing, we will reach the top of the Saldand La Pass. From here we can enjoy the great view of the barren, and the coppery red landscape of Mustang. Then we will descend down to the south and it might get long and tiring.

Day 14

Trek to Crystall- Monastery shey with Tsakang Monastery Full Service Camping

An easy day, almost a full rest and the chance to visit the very special Tsakhang Gompa 4520m with an easy hour's descent to camp overlooking the fabled Shey Gompa and neighboring 'Crystal Mountain' (which takes its name from the veins of quartz that traverse its base), the most sacred peak in Dolpo which Dolpo pilgrims circumambulate each July or August, during the full moon, before the yearly grain harvest. The sacred mountain is knows as the Kailash of Dolpo; the mythology behind it describes a Tibetan Buddhist lama who battles the fierce local mountain spirit on a snow-lion, perhaps the same lama who founded Shey Gompa, called 'Ribu Drurta' in the Dolpo dialect.

Most people know Shey Gompa from Peter Mattheissen's 'The Snow Leopard', an inner journey and travelogue about his experiences trekking in Upper Dolpo with biologist George Schaller in 1973. Their team went to Dolpo to study blue sheep, and search for the elusive and magnificent snow leopard. Matthiessen was then studying Zen Buddhism, and searching for the Lama of Shey Gompa on retreat at Crystal Mountain.

We have a very short descent to Tsakhang Gompa, where we hope the key-keeper will meet us and open up this ancient monastery for us. We can spend an hour (or more) at this scenic Himalayan spot as it's a short hike to Shey. Leaving Tsakhang Gompa (see description below), we descend, cross a small stream and then ascend, hiking along a high, undulating trail marked by fluttering prayer flags, ancient mani walls, chortens and pilgrimage sites atop the many ridges that we crest. Trekking past herd of yaks and perhaps some goat and sheep herders, we finally spot Shey Gompa and the neighboring village of Shey, a tiny hamlet of four houses and fifteen or so year-round inhabitants. In the winter, Shey is isolated from much of Dolpo by the surrounding passes, and snow is reported to be often waist-deep. A red chorten marks the entrance to Shey, where we stay for the next two nights near the gompa at a wonderful, grassy campsite. We are entering George Schaller's blue sheep and snow leopard country, so keep the binoculars ready.

After lunch, we will visit the 11th-13th century, ochre Shey Gompa, a wonderful monastery full of colorful Tibetan murals and old statues that the gate-keeper, a monk who takes on the caretaker roll for three years, will open up for us. The Kagyupa gompa was fabled to have been constructed by a Tibetan Buddhist lama, arriving on the back of a mythical snow-lion.

'I flew through the sky on a snow lion
And there, among the clouds, I performed miracles.
But not even the greatest of celestial feats
Can equal once rounding on foot this Crystal Mountain'.

– Drotob Senge Yeshe (the lama)

Day 15

Crossing Kang-La Full Service Camping

The trek today is especially tiring and demanding today. It will take us around 3 hours to reach the top of the Kang La Pass at altitude of 5,151m. The view from the top more than compensates for all the hard work. While descending the steep valley floor, we have to be extra careful. It will take only around 45 minutes.

The Phoksumdo Valley now becomes quite narrow with high rock walls on both sides. We are forced to cross several tributaries and some may have to be waded. After 20 or 30 minutes we leave the main valley and head north again entering a narrow gorge. We have a long climb, often with no trace of any trail as we progress up the steep sided valley, passing occasional grazing areas and crossing several side streams. We are following in Peter Mathiesson's footsteps here and we camp at the spot he named 'Snowfields' Camp in his book. The camp is at the foot of the pass that will lead us to Inner Dolpo. Altitude at camp is approximately 4650m meters.

Day 16

Trek to Phoksundo Khola Camp Full Service Camping

We start our trek to Shey Gompa in Inner Dolpo with a spectacular trail around the western end of the lake. The precarious path is chiseled from the steep rock walls and in places is supported on wooden trestles woven with saplings and covered with rocks. The sparkling pure turquoise waters of the lake lie directly below and it is wise to proceed with full attention to your footing. This trail was dramatically featured in Eric Valli's brilliant film about the life of the people of Dolpo who bring their yaks over difficult passes bearing salt from Tibet to trade for vital grain in the south. The film was originally released with the title 'Caravan' but later this was changed to 'Himalaya'. After this high traverse, the trail climbs to a ridge giving spectacular views over the lake, the dark green forest, and the bright fields of Ringmo with the snow peak of Kang Norbu to the south. A cairn and prayer flags mark our highpoint on the ridge at a little above 4000 metres, beyond which we make a gradual descent to the lake's northern shore where we take lunch.

Day 17

Rest day in Phoksundo Lake Full Service Camping

It is necessary to spend a day here to give our bodies' time to acclimatise to the new altitude. This will also be a welcome rest after the last few days of hard trekking and a chance to catch up on laundry. There are various options for excursions in this fantastic location and a visit to Ringmo and its overlooking monastery is a must.

Day 18

impressive Waterfall Full Service Camping

Today you will trek back to Chhepka. Head towards Sulighad, following a stream originating from the lake. You will pass through the village of Renje, and fir and larch forests along the Sulighat river before reaching Chhepka at 8,268 feet.

Day 19

Down through Suli Khola Full Service Camping

After breakfast, retrace the trail to Juphal through beautiful forests, fields, and villages.
Inclusions & Details
Cost Inclusion
• Airport Pick Up -Car/Jeep
• Airport Drop Kathmandu And Nepalgunj Pick Up
• 3 Night Hotel in Kathmandu with Breakfast
• One Night Hotel in Nepalgunj with M. A .P (Dinner and Breakfast)
• 18 Nights – 19 Days Full service camping trek (All Meals included)
• National Park Permit
• Govt. licensed; experience Trekking •Guide,Transportation, Salary as per TAAN, Staff PAN tax as per Govt. rule, Insurance etc for Nepali staffs
• All Restricted Area Permit Upper Dolpo & National Park Entrance Fees 500 $ +
• All Tax.
• All Domestic Flight (Kathmandu-Nepalgunj-Dolpo and Return)
Cost Exclusion
• Emergency evacuations and insurance
• Personal clothing and equipment
• Personal Beverages, Mineral water, Starters,
Deserts, Hot shower, Laundry, Battery charging
• Unforeseen expenses due to Political Unrest or
Natural Calamities etc.
• Staff Tips
06 Request A Quote
For Queries & Reservations
Group travel is a great way to discover new adventures and create memories that last forever . Choose your trip with guaranteed departure dates and join us now.
Chhewang N.Lama +977-9801046333 / +977-1-4813166
info@responsibletreks.com