Trip Style:

EHP 1

Ways to Travel:

Sightseeing, Flight, Trekking, Climbing

Activities:

Trekking

Group Size:

2-12

High Altitude

5545m.
Activity Level:
Challenging
This trip is challenging trip for your life and adventure
Trip Overview
---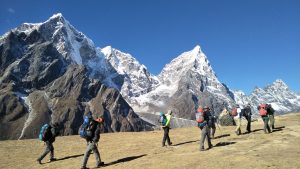 Trekking in the Everest Region
The Everest Region is one of Nepal's top trekking destinations, and the Three Passes Trek is its ultimate trekking adventure, crossing three passes over 5,000m, each offering amazing scenery and views.
Our trek is a window into traditional Sherpa villages and 'gompas' (monasteries), their mountain Buddhist culture and their sacred peaks and valley.
From Katmandu you will fly to Lukla and follow the classic Everest trail through Namche Bazaar, Tyangboche and Dingboche to the Kongma La pass surrounded by dramatic views of Ama Dablam, Makalu and the Lhotse , Nuptse face. From the Kongma La pass , you will descend to the Khumbu glacier and then ascend Kala Patar for breathtaking close-up views of Mount Everest and a sea of other Himalayan giants. You traverse the glaciated Cho La pass to Gokyo, where we explore the valley and climb Gokyo Ri to enjoy more excellent mountain views including another angle of Everest, and Cho Oyu on the Tibetan border to the north then bear west to scramble across the Renjo La, dramatically back-dropped by the Everest range, to enter the Bhote Kosi valley, where you walk along grazing pastures and a trading route used by yak trains from Tibet to Thame.
It is a short day from Thame to Namche Bazaar, where you will re-trace your earlier steps to Lukla and then fly back to Katmandu.
Trip Highlights
Starting From

: Kathmandu/Phaplu

End at

: Lukla/Kathmandu

Duration

: 21

 Days

Grade

:

Moderate,Challenging  

Max. Elevation

: 5545

m.

Activity

:

Trekking, Adventure, Climbing

Culture

: Rai

, Limbu, Kirat

, Sherpa, Buddhist

Best Season

: April –

May,  September – October

Himalayan sights

:

Mt. Everest, Lhotse, Nuptse, Barunche, Mt. Makalu, Amadablam,  and many more…
Detailed Itinerary
Day 01

Fly to Lukla, Trek to Phakding [2651m/8700ft] 3-4 hrs Package Tea House

A spectacular flight and hair rising landing on a steep mountain runway brings us to the start of our trek at the village of Lukla [2800m]. After meeting the crew, we head up the Dudh Koshi Valley on a well-marked trail to our first lodge near the river at Phakding.

Day 02

Trek to Namche Bazaar [3438m/11280ft] 5-6 hrs Package Tea House

From Phakding, we cross and re-cross the river on high suspension bridges. Beyond Monjo is the entrance to the Sagarmatha National Park, which was set-up in order to protect and preserve this fragile mountain environment. We then ascend quite steeply to Namche and along the way, if the weather is clear, catch a first glimpse of Mt Everest in the distance. Namche is the main trading village in the Khumbu and has a busy Saturday market – a meeting place for the Hindu traders from the lowlands and the Tibetan yak caravans that have crossed the glaciated Nangpa La.

Day 03

Rest and acclimatization Day Package Tea House

Namche is tucked away between two ridges amidst the giant peaks of the Khumbu and has an abundance of lodges, teashops and souvenir shops as well as a magnificent outlook. It is an ideal place to spend a rest day, acclimatising to the new altitude before heading off towards Tengboche. Options for acclimatisation walks include a visit to Khunde Hospital which was set-up by Sir Edmund Hillary, or a one hour walk up to the Everest View Hotel above Namche for the sunset view of Ama Dablam, Nuptse, Lhotse and Everest. There are also good views from the National Park Centre and Museum just above the town.

Day 04

Trek to Tengboche [3.860 m/12665ft] 5-6 hrs Package Tea House

From Namche, the trail contours around the side of the valley, high above the Dudh Kosi. Now we get our first really good views of the great peaks of the Khumbu including Mt Everest, Lhotse, Nuptse and Ama Dablam. Passing by several villages and numerous tea shops, we descend steeply to a bridge over the river at Phunki Tenga. The village is an excellent lunch spot, and here we can rest before making the steep climb to Thyangboche. Although tiring, the hike up the zigzag path has numerous distractions, with rhododendron bushes, beautiful birds and superb mountain scenery. Tengboche is famous for its legendary monastery, the largest in the Khumbu. We stay near the monastery with Everest, Lhotse and Ama Dablam framed in the doorway of the lodge.

Day 05

Trek to Dingboche [4410m./14468ft.] 6 hrs Package Tea House

We descend steeply through a forest, cross the Imja Khola and climb steadily to the village of Pangboche. This is directly opposite Ama Dablam [6,856 m], and has exceptional views of the mountain, with the gompa, mani walls and scattered pine trees in the foreground. Old Pangboche's gompa is the oldest monastery in the Khumbu, founded in 1667 and housing relics said to be the skull and hand of a yeti. A further two to three hours walking brings us to Dingboche.

Day 06

Rest day Hike up to Narkhang Hill (5073m.) Package Tea House

Today you can enjoy another day for acclimatization. We will do an excursion to Nangkartsang/Narkhang Hill (5000m.) to get acclimatize and for fabulous views including the stupendous, 3.600 meters high wall of Lhotse [8.501 m] neighbor to Everest, Mt. Makalu (8.463m.) and the north face of Ama Dablam, with its fluted ice walls. The high ridge point of Chhukung Ri [5.560 m] will provide an incredible amphitheater view of the Chhukung, Pheriche and Dingboche  valley. If you are strong enough or enough time you can visit neighbouring village of Pheriche you can visit the Himalayan Rescue Association to listen to the daily lecture on high altitude health, and get a check up from the medical staff.

Day 07

Trek to Chhukung [4750m/15580ft] [5 hrs] and climb Chhukung Ri [5.546m./18195ft.] 5 hrs Package Tea House

Our trail passes through stone-walled fields and Imja Khola valley before entering glacier moraines amidst towering Himalayas. The trail continues to Bibre which is a yak herdsman place. From here, directly across the valley is the fantastic Ama Dablam and the Amphu Labsa mountains. The trail ahead is intersected by icy streams. We continue our walk for around half an hour and reach Chhukung. After lunch, we begin our trek towards Chhukung Ri. The climb to Chhukung Ri involves some easy scrambling near the summit. From the top, we can look directly across the valley for a fantastic view of Ama Dablam and Amphu Labcha peaks. We descend back to Chhukung to spend the night

Day 08

Trek to Lobuche [4.930 m/16210ft] via Kongma La pass [5535m/18159ft] 6-7 hrs Package Tea House

We begin today's trek very early in the morning to reach the highest part of the entire trip which is Kongma La pass. We can either take a trail over a hill which is to the northwest of Chhukung over the Nuptse Glacier moraines or we can walk back to Bibre and trek on the trail above the Niyang Khola. The top of the pass is marked by cairns and Buddhist prayer flags. The final descent from the pass is the most difficult part of today's journey. After climbing the moraine on the far side, the trail turns north through Khumbu Glacier which takes us to Lobuche. Overnight at Lobuche.

Day 09

Trek to Gorak Shep [5.184 m/16961ft] and Visit Everest Base Camp [5.364m./17598ft.] 8-9 hrs Package Tea House

Our trail moves along the lateral moraine of the Khumbu Glacier. Ahead on the trail we see the crest of the north ridge of Everest along with Pumori, Mahalangur, Lingtern, Khumbutse, Nuptse and other mountains. A small ascent takes us to Thangma Riju. From here we admire panoramic views of the Himalayan vista. We ascend on a steep trail up to the top of Changri Glacier. As we reach Gorak Shep, we are surrounded by the Himalayas. After resting for a short while, we continue to Everest Base Camp. We pass through rocky dunes, moraines and streams before reaching the base camp of the world's tallest mountain, Everest. From here we admire Nuptse, Khumbuste and Pumori mountains. We trek back to Gorak Shep and spend the night.

Day 10

Early Morning Kalapather [5545m/18192ft] then to Lobuche [4.930 m/16210ft] 8-9 hrs Package Tea House

We start our trek to Kala Patthar early in the morning in order to catch remarkable views of the first light of the sun shining on Mt. Everest. However, we need to be prepared for trekking in the dark and cold temperature (the temperature varies according to the season). Furthermore, there is always a chance for chilly winds which are quite common. As we continue our trek, familiar peaks such as Lingtren, Khumbutse, Changtse, Everest and Nuptse tower above us. After several hours of ascent, we will be on the top of Kala Patthar. The close-up view of Mt. Everest and other Himalayan peaks from Kalapathar is amazing. We enjoy the stunning Himalayan vista and descend to Lobuche where we stay the night.

Those participants who will visit Everest Base Camp today will have an early breakfast to start early as Everest base camp hike takes longer than the hike to Kala Patthar. After returning to Gorak Shep, both the groups will have lunch together.

Day 11

Trek to Dzonglha [4.280 m/15850ft] 3-4 hrs Package Tea House

Today is a five to six hour walk, first heading down the well-worn trail past Labuche and up an alternative, winding trail to Dzongla, a small 'Kharka' of two lodges which sits a few hours below the Cho La pass. The walk to Dzongla past the Cho La Lake is a lovely one, contour after contour around scenic hillsides, and the panoramic mountain views are wonderful so we'll take time to enjoy it. Turning right at the corner where we look left towards Pheriche- where our 2 other friends will be staying and straight ahead at Cho La Lake, we have a short but steep climb followed by a descent before crossing the valley where the Taboche Peak Base Camp is set. One river crossing on a very small stone-slab bridge and one steeper climb waits. Once at the Himalayan View Lodge in Dzongla, we gaze up at the sheer wall of Cholatse Peak and get ready for the early morning crossing of Cho La pass the next day.

Day 12

Trek to Thangnak [4.700 m/15580ft] via Cho La Pass Package Tea House

An early start for the crossing of the scenic Cho La pass (5370m), a steep and somewhat difficult ascent of a rocky ridge a few hours walk from Dzongla kharka. We start by ascending gently around the ridge above the lodge, continuing for half an hour along a relatively flat plateau and then crossing a small glacial stream on rock steps, often icy. We begin the real climb from here, first switch backing gently to a massive rock wall which blocks the entrance to the pass ahead of us. Stopping for a rest, we'll soon turn sharply right and start climbing a rock staircase, often with hands to steady us. It's a fun ascent, and soon we've reached a small plateau where we gaze down on the Ama Dablam valley far below us. Again we start climbing towards the pass, first right under a rock outcropping afterwards on rocks and snow, often icy and slippery and finally on the Cho La glacier itself. Once up on top of the glaciated pass, we trek across the snow, with Lobuche West looming above us, to the summit and hang some Buddhist prayer flags to send prayers out across the Himalaya. From the Cho La pass, we'll marvel at views of Ama Dablam, Kantega, Thamserku, Taboche, Cholatse and Baruntse, and to Nangpai Gosain, Pasang Lhamo, and Numbur and on the Gokyo side. After a snack, it's a scramble back down the very steep pass followed by a rocky, hilly trail across the valley, and another long, steep descent to the yak kharka of Tangnak.

Day 13

Trek to Gokyo [4.790 m/14370ft] 3 hrs Climb Gokyo Ri [5.357m/17575ft] 4 hrs Package Tea House

We start the morning by crossing the Ngozumpa Glacier on a sandy, shifting trail, the frozen lakes creaking below and beside us as we snake our way to the other side. Once back on the main trail to Gokyo, we have an hour's hike past the second lake to the lodge at Gokyo. In the Gokyo valley, the character of the trekking changes abruptly. The opaque powder blue lakes are often on the verge of freezing over, and sometimes performing a Himalayan symphony of expanding and retracting ice. We have entered the grassy ablation valley running beside the Ngozumpa Glacier, and have our first sight of Gokyo, a seasonal village and grazing area built beside the third, and biggest lake. Gokyo has become something of a Himalayan resort without the crowd – at least in terms of the comfortable lodges with sunrooms, unbeatable views, excellent food and warm stoves. It is a great base to explore from, and we have plenty of time for it. Lured into the wonderful sun-room, it is easy to spend the day chatting with fellow trekkers, watching shaggy yaks amble their way in and around Gokyo (sometimes casually sticking their heads inside the lodges) and admiring the views. For those with energy left over after the pass, a must is an excursion up Gokyo Ri (5360m) for some Everest spotting and all-around spectacular views of the lakes, the glacial moraine, the Khumbu icefall and the Himalayan peaks surrounding us on all sides (including Makalu, this time). It is fantastic in the morning, the middle of the day or for sunset, but don't forget to bring a torch if you opt for a 'sunset on Everest' views, which is better than the sunrise.

Day 14

Gokyo & Relax! [4.790 m] 7 hrs Package Tea House

If you didn't get up Gokyo Ri yesterday, you have another chance today. Another option is an incredible day hike up the Gokyo valley, past two or three more glacial lakes, towards Cho Oyu. There are several trails that snake up this gorgeous valley, one emerging on the ridge overlooking the creaking glacier, another passing the eerily deserted fourth lake with it's white, stony beach, and all with unforgettable views of Everest and the Himalayan range. The unobstructed view of Everest from Scoundrel's Point (4995m) is a decent reward for the walk. A third option is an hour's hike around Cho La Lake, passing the beach and Buddhist and Hindu 'temples' on the opposite side. On the other hand, just sit by lake and relax. You are on VACATION…

Day 15

Trek to Lungden [4.368m/14330ft] Vie Renjo pass [5360m/17611ft] 7-8 hrs Package Tea House

We start the day early in the morning to complete the long day's trek ahead. Our trail moves alongside Dudh Pokhari (lake) for a while. We walk for around two hours before descending towards the Renjo La pass. On the way we are rewarded with extravagant views of the Himalayan and Rolwaling ranges and others. Views from the Renjo La pass are much like that from Gokyo Ri with the third Gokyo Lake and Gokyo Village beneath the gray smear of the Ngozumpa Glacier. We also get outstanding views of Mt. Everest from the top of the pass. Continuing on from the pass, our trail winds down a stone staircase and then moves over a loose scree to reach the south bank of Angladumba Tsho Lake. The prescence of ice on the trail while descending down can make our descent a bit hazardous. Along the way we see Relama Tsho and Renjo Lake. We walk down a narrow valley clogged with giant boulders to Lungden where there is a support lodge. -OR- We walk almost for an hour from lungden to get to Marlung on the east bank of the Bhote Koshi River. Overnight at Marlung

Day 16

Trek to Thame [3493m/11439ft] 4-5hrs Package Tea House

The trail keeps descending and loses altitude at a consistent pace, and reaches the village of Marlung. After Marlung, the trail slowly moves towards the famous village of Thame on an easier terrain. Thame has a sprawling village with a few lodges and stunning mountains like Thamserku, Kantenga, Kusum Kangguru, etc. Overlooking Thame is its famous Gompa situated amidst some fields on a hill to the west. Established some 325 years ago, the Gompa has three big images of Chenresig (Avalokiteswara), Guru Rimpoche, Buddha Sakyamuni. Colorful Mani Rimdu festival featuring colorful mask dances is held in this Gompa in May.

Day 17

Trek to Monjo [2800m/8400ft] 6 hrs Package Tea House

A drop into the river starts the day and an undulating trail leads into Namche Bazaar, finally connecting the trek again with the same route taken at the start of the trek. On the way down from Namche, we take a last look at the Everest and merrily continue the trek down to river. The exit from the Sagarmatha National Park and a brief drop leads to the village of Monju and ends the days trek.

Day 18

Trek to Lukla [2800m/8400ft] 6hrs Package Tea House

Our final day's trekking follows the Dudh Kosi back down to Lukla. This last evening in the mountains is the ideal opportunity for a farewell party with the sherpa guides and porters, where we can sample some chang, try Sherpa dancing and look back on a memorable trekking experience.

Day 19

Flight to Kathmandu Hotel in Kathmandu

We're up early to take our 25 minutes morning flight back to Kathmandu.
Inclusions & Details
Cost Inclusion
Nepalese Government peak royalty fees
All trek organisational requirements
All trekking permits
Airport Transfers in Kathmandu
Air transport and accommodation in tea house
All group equipment (tents, ropes, kitchen etc.) during the climbing period.
All trek staff, including Climbing+trek guide, Porter cum cooks, 1 extra porter support
Transport of 20 kg of personal equipment
All meals after departing Kathmandu and before arriving back in Kathmandu.
Cost Exclusion
Air travel to and from Nepal
Hotel accommodation and meals in Kathmandu
Purchases of bottled water while on the trek, gifts or alcohol (we supply boiled water for drinking).
Entry visas for Nepal (suggest getting 30 day tourist visa for Nepal on arrival into KTM)
Personal clothing and equipment
Personal travel / cancellation / rescue insurance
Excess baggage charges for the flights to / from Lukla
Any rescue costs
Tips for guides and Sherpas
06 Request A Quote
For Queries & Reservations
Group travel is a great way to discover new adventures and create memories that last forever . Choose your trip with guaranteed departure dates and join us now.
Chhewang N.Lama +977-9801046333 / +977-1-4813166
info@responsibletreks.com