Trip Style:
Ways to Travel:

Guided Hike , Jungle Safari ,Drive tours

Activities:

Bhutan Travel

Group Size:

2-12

High Altitude

3000 M
Activity Level:
Easy

Trip Overview
This tour will cover the three Former Himalayan Kingdoms in 16 days. Explore Sikkim and Bhutan, two of the most isolated Himalayan regions. Your journey begins with an arrival transfer to Darjeeling, where we include a ride on the narrow-gauge mountain railway and sunrise over Kangchenjunga from Tiger Hill. Visit the capital of Sikkim, Gangtok, and passing on to Rumtek, visit the Karmapa's Monastery. Travel to Kalimpong, once an important trading post for these parts of the world.
From Kalimpong, our road then descends into the plains known as Duars, filled with lush tea gardens and some remote villages that are much isolated from the mainstream. Cross into Phuntsholing, Bhutan. Discover Bhutan's captivating cultural mix, reflected in its beautiful shrines, temples, and handicrafts as you travel from south to western Bhutan; in the towns and villages of Paro, Thimphu, and Punakha valley. Explore the Dzongs, ancient fortresses that once protected the kingdom
Finally Experience the diversity of Nepal through a visit to Kathmandu, Pokhara, and Chitwan. Kathmandu is a vibrant city, where they say there are more temples than abodes and more gods than men. In Pokhara, Nepal's adventure capital, you can relax by the lakeside or go paddling, paragliding, or trekking in the nearby Himalaya. Then, head to Chitwan, Nepal's lowest altitude at just under 100m above sea level, and go on a safari to see rhinos, various types of monkeys and deer, and perhaps even a tiger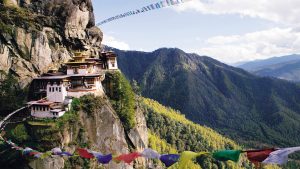 Tiger Nest
Detailed Itinerary
Day 01

Fly from Delhi Arrive Bagdogra Airport to Darjeeling Hotel

Today fly from Delhi arrive Bagdogra Airport. On arrival meet your local representative and Transfer from Bagdogra Airport to Siliguri. It is just 10km. Check in at Hotel at Siliguri and rest. Then in the evening transfer to Siliguri old market to hear the detail of the tour of Darjeeling, Sikkim and Kalimpong. Leisure overnight.

Day 02

Transfer to Darjeeling Hotel

Today after breakfast transfer from Siliguri Hotel to the land of imperial Tea Darjeeling. The drive from Siliguri to Darjeeling is 95km and will take 4hours. The drive will be form the Indian Plains to the hills of tea Garden and then along the Darjeeling Himalayan Rail way. In the entire drive you will enjoy the drive see the tea pluckers and whistle of the Toy train. Arrive Darjeeling Check in at Hotel at Darjeeling. Then rest for a while and then take a walk to the main square of Darjeeling. Here you can see the Local people of Darjeeling and their life style and do some window shopping. Then come back to the Hotel. Leisure overnight.

Day 03

Darjeeling Sightseeing Hotel

Today early morning at 4am we visit Tiger Hill From here you can see the Sun Rise over 3rd Highest Peak (Mt Kanchendzonga) After this we visit Yiga-Choling(Ghoom) monastery. This monastery is from the Geluk Sect and has the Future Buddha. See some prayers in the Monastry and come back to the Hotel for Breakfast. After breakfast we drive to Darjeeling Rail Station for Toy Train ride till Ghom Station. We will pick you up from Ghoom Station and bring you for Lunch. After Lunch we visit the tea Garden and the tea Factory to see the Prossess how the world famous tea of Darjeeling is made. Then on the way back visit Padmaja Naidu Himalayan Zoological Park, Himalayan Mountaineering Institute. After this sightseeing come back to the Hotel and rest for a while and then in the evening visit the local market. Leisure overnight.

Day 4

Darjeeling to Gangtok Farm House

Today morning after breakfast,we will transfer from Darjeeling to Gangtok. The distance from Darjeeling to Gangtok is 105km and will take 5hours. On the way to Gangtok we will visit View of River Teesta and Rangeet the 2 Main Rivers of Sikkim. Reach Gangtok Check in at Hotel at Gangtok. Leisure overnight.

Day 5

Visit Gangtok. Hotel

Today morning after breakfast at 8am we will have a walk which is called the Royal Sikkim Heritage walk. This walk highlights the history about the Last King of Sikkim about his family. Then after walk we do sightseeing around Gangtok. You will visit Enchay Monastry, Rumtek Monastry, Tibetology, Flower Show, Do Durl Chorten and Cottage Industry. Then walk around Gangtok Local People. Then free on your own. Leisure overnight.

Day 06

Gangtok to Kalimpong Hotel

Today after breakfast transfer from Gangtok to Kalimpong. The distance is75km and will take 3hours. On the way to Kalimpong visit Dello View Point, Durbin Monastery, Orchid Garden and Hat Bazar. Reach Kalimpong check in at Hotel. Leisure overnight.

Day 07

Kalimpong to Phuntsholing to Thimphu Bhutan Hotel

Today after early breakfast we will transfer from Kalimpong to Phuntsholing. At the border of Bhutan and India we will do the Indian immigration formalities (Indian Agent Tour Ends) and then enter Bhutan and the Bhutanese representative will do the Bhutanese Immigration formalities and transfer to Thimphu. Today will be long ride but the Beauty of Bhutan will really mesmerizes your tiredness. Check in at Hotel at Thimphu. Leisure overnight.
06 Request A Quote
For Queries & Reservations
Group travel is a great way to discover new adventures and create memories that last forever . Choose your trip with guaranteed departure dates and join us now.
Chhewang N.Lama +977-9801046333 / +977-1-4813166
info@responsibletreks.com