Trip Style:

PC 1

Ways to Travel:

Sightseeing, Flight, Trekking, Climbing

Activities:

Climbing

Group Size:

2-12

High Altitude

6476 m
Activity Level:
Challenging
This trip is challenging trip for your life and adventure
Trip Overview
The first ascent of Mera peak was made in 1953 by Jimmy Roberts and Sen Tensing, who appear to have climbed the central summit. Mera peak  is among the highest of Nepal's official 'trekking peaks'. it is also one of the most popular.  Access is relatively straightforward,  and the climbing uncomplicated.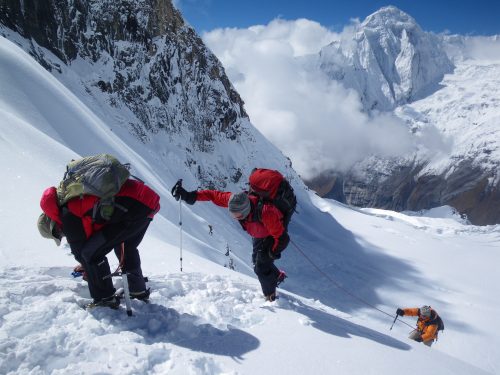 This challenging climbing expedition summits one of the highest trekking peaks in Nepal where you'll get up close to five of the world's tallest mountains: Kangchenjunga, Makalu, Lhotse, Everest, and Cho Oyu. Along the scenic route, you'll pass through lush forests, terraced rice paddies, and small villages and settlements inhabited by the Sherpas while staying overnight in teahouses and tents. You'll also have a chance to visit ancient monasteries and temples in the uninhabited Hinku Valley during the trek.
Trip Highlights
Starting From

: Kathmandu/Phaplu

End at

: Lukla/Kathmandu

Duration

: 21

 Days

Grade

:

Moderate,Challenging  

Max. Elevation

: 6476

m.

Activity

:

Trekking, Adventure, Climbing

Culture

: Rai

, Limbu, Kirat

, Sherpa, Buddhist

Best Season

: April –

May,  September – October

Himalayan sights

:

Mt. Everest, Lhotse, Nuptse, Barunche, Mt. Makalu, Amadablam,  and many more…
Detailed Itinerary
Day 01

Welcome to Kathmandu. Hotel in Kathmandu

Flying into Kathmandu, you'll have views over the valley, the Himalaya, and the terraced fields below. After completing customs, a representative will be waiting to greet you outside the airport and to guide you through the initial culture shock of Kathmandu's narrow, winding streets to your hotel.

Once you've settled in, head out and explore the city. Kathmandu Durbar Square is a great place to start your exploration, where you'll walk through narrow alleyways teeming with small shops, ancient temples, and local restaurants. If you want to stretch your legs, Swayambhunath, the white stupa rising above the valley, is the perfect spot to catch the sunset over the valley.In the evening, the tourist hub of Thamel is a good place to grab your first meal, with a variety of restaurants to chose from offering both Western and local Nepali dishes.

Day 02

Explore Kathmandu Hotel in Kathmandu

Kathmandu has a special atmosphere during the early morning hours when the city is slowly coming to life yet nottoo chaotic. It's a great time to walk and explore the streets or have a chai overlooking one of the local courtyards or durbar squares.

After breakfast, there are then a number of ways you can spend your day given the numerous famous sights around the Kathmandu Valley. You can use this as a free day or we can provide a local English-speaking guide who knows the city well and can explain the history and significance of the sights (along with a private jeep to take you around). Later in the evening, head out for dinner at one of the city's great eateries, or your specialist can arrange a home-cooked dinner with a local family.

Day 03

Fly from Kathmandu to Paphlu, Trek to Takasindu (9,711 feet / 2,960 m) 3-4 Hours Package Tea House

After an early breakfast, you'll transfer to Kathmandu's domestic terminal for the 45-minute flight to Paphlu in the Solu Khumbu region.Upon arrival, you'll meet with our crew and help organize the porters before you set forth headed north through the foothills of the Himalayas with views of the Khumbu region. The trail is undulating as you cross several side valleys and pass through the villages of Chewang and Beni before reaching Ringmo.

Here, you'll join the Everest trail coming from Jiri and then follow this over the Takasindu La, which gives access to the Dudh Kosi Valley, the main drainage of the Everest region. Today's trek ends at the village of Thaksindo located just below the pass.

Day 04

Trek from Thaksindo to Kharikhola (2000m./6562ft.) 5-6 Hours Package Tea House

After breakfast in Thaksindo, today's trek starts with a lengthy downhill leg as you descend a steep distance to the Dudh Kosi. You'll pass through the large village of Nuntalla before reaching a foaming river, which brings Everest's melted snow down all the way to the plains of India. Then, you'll cross a long suspension bridge in order to reach the small settlement of Jubhing on the other side. As you begin to head north, you'll follow the river, gradually climbing above it, entering the side valley of Kharikhola

Day 05

Trek from Kharikhola to Pangkongma (2846m./9337ft.) 5-6 Hours Package Tea House

After breakfast in Thaksindo, today's trek starts with a lengthy downhill leg as you descend a steep distance to the Dudh Kosi. You'll pass through the large village of Nuntalla before reaching a foaming river, which brings Everest's melted snow down all the way to the plains of India.Today, you'll have breakfast in Kharikhola and then begin an immediate steep climb, which will remove you from the confines of the side valley. This well-graded trail leads trekkers through a series of switchbacks, and the steady andconsistent approach will make the climb easier

After an hour or so you'll reach the village of Bupsa at the crest of the ridge. Here you'll turn off the Everest trail and climb up to the Khari La, which you should be able to reach in two hours. From the pass, you'll trek mostly downhill to reach your overnight stop at the village of Pangkongma.

Day 06

Trek from Pangkongma to Ning So (3100m.10170ft.) 5-6 Hours Package Tea House

After breakfast in Pangkongma, you'll begin a great day of trekking commencing with a climb up to thePangkongmaLa. This is the location of the main watershed, which separates the valleys of the Dudh Kosi and Hinku Khola. Here, you'll have our first sighting of Mera Peak before making a steep descent to the village of Sibuje. From this point, the trail is undulating as you make our way through a forested river valley towards Ning.

Day 07

Trek from Ning So to Jungle Camp (10,367 feet /3,160 m) 5-6 Hours Package Tea House

Today after breakfast in Ning So, you'll begin a steep climb affording you tremendous views of the mountains. You'll then continue to climb to your highest point of the day before a steep descent back down to the river where you'll stop and have lunch. In the afternoon, make your way through a forest with some additional steep sections of trail culminating with a river crossing via a remarkable bridge made from a huge tree trunk to reach your accommodation at Jungle Camp

Day 08

Trek from Kothe to Thangnak (4230m./13878ft.) 4-5 Hours Package Tea House

After breakfast at Jungle Camp, you'll head north following the Hinku Khola through moss covered trees with several steep ups and downs as you negotiate side valleys and rock ridges. Your overall elevation will gradually increase and then finally, after crossing a broad ridge of mixed forest, you'll reach a sandy boulder-choked area known as Gotay. Continue toward. Kothe where there are several seasonal lodges and grocery stores in this otherwise uninhabited part of the Hinku Valley

Day 10

Acclimatization day in Tagnag Package Tea House

Today is a rest day for acclimatization. Take this opportunity to sleep in and relax with a leisurely breakfast in Tagnag. For those who want to get some exercise, there's a day trek up the nearby ridge coming down from Kusum Kanguru, where you can reach an altitude of nearly 16,404 feet (5,000 m) andgain a spectacular view of your upcoming route onto th MeraLa. Part of today may also be used to run through various techniques and safety procedures for you upcoming climb

Day 11

Trek from Tagnag to Khare (5000m.16405ft.) 5-6 Hours Package Tea House

After breakfast in Tagnag, you'll head up towards Mera Basecamp at Khare. This great trail leads up and across the moraine, which dams Charpatti Tal, and reaches a high point lined with cairns overlooking this glacial lake in about 30 minutes.

From here, the trail descends slightly and then climbs alongside a khola (or stream) to the large pasture of Dig Glacier. Here you'll cross the khola along stepping stones and then climb another hour and a half to Khare, the base camp for Mera Peak, where you'll stay the night.

Day 12

Acclimatization day in Khare (16,404 feet /5,000 m) Package Tea House

Today is another opportunity for acclimatization so take advantage of the time and get plenty of rest. Part of the day may be used to practice techniques and safety procedures that can be used on your climbs. Otherwise, there are some great day hikes from Khare. For instance, just above camp,you can climb up to a high moraine ridge where there are nice views of Mera La as well as the continued route up the mountain.In the afternoon, there will be time for the final preparation of your equipment and packing bags.

Day 13

Climb from Mera La to High Camp (5700m.18700ft.) 6-7 Hours Organised Camping

Today, eat well breakfast and carry your packet Lunch in Khare before beginning your climbing up to High Camp. The first section is a little tricky and reaches the crest of the moraine above Khare and then up a steep slope to reach a boulder-strewn bowl below the lower tongue of the Mera Glacier.The route then crosses the bowl and climbs the ground to the right of the tongue toward a large rock platform beside the glacier. At this point you will put on your crampons and climb up to the plateau leading to the Mera La. Unless there has been recent snowfall, you will make your way through a solid trail, which weaves its way around and between the crevasses toward the Mera La.

After few minutes' rest and having your packet Lunch which is prepared by Khare Hotel. Now, your guide will then choose between several options for getting to the Advanced Base Camp [High Camp], likely opting for areas where there is little snow, as well as shelter from the wind.After the first 30-minute climb, the view north into the main Himalaya opens out starting with views of the red pyramid of Makalu, then Everest with its cloud plume peeking over the impressive black wall of Lhotse.

Later you can see to the northwest the large white girth of Cho Oyu. Arriving at high camp, if the weather has been kind, the beautiful massif of Kangchenjunga comes into view, far to the East. This is one of the most beautiful panoramas in Nepal with views of five of the world's six highest mountains.

Day 14

Contingency Day Organised Camping

Today is a reserved extra day set aside in case of any contingency due to weather. Overnight: Advanced Base Camp (19,028 feet / 5,800 m) Accommodation: Camp.

Day 15

Summit push for Mera Peak (6476m./22133ft.) Descend to Khare 10-12 Hours Package Tea House

Today is the biggest day of your trek! Get an early pre-dawn start with breakfast at camp. You will have to put on crampons and rope up before setting out for the summit of Mera Peak. One of the great advantages of using the high camp, as well as making for a shorter summit day, is that you will have only around an hour of walking with head torches before dawn breaks.The climb is mostly easy angled snow slopes to the foot of the dome of the central summit, where you will have a fixed rope for the last portion.

Note that in certain snow conditions an ascent of the central summit may be beyond the technical grade for this trek; in this case, the group will make an ascent of the easier and slightly lower south summit. Your guide will make this decision.From either top, the panorama of the Himalaya including five of the world's highest peaks is unforgettable. From the summit, you will descend first to the high camp for some tea or soup and then continue down to Mera La and all the way back down to the teahouse in Khare. This is a long but rewarding day.

Day 16

Trek from Khare to Kotay - 6-7 Hours Package Tea House

After breakfast, you'll depart Khare and descend down to the beautiful Hinku Valley crossing a broad ridge of mixed forest all the way to the village of Gotay. This is a good place to stop for the night with several teahouse lodges that have opened in recent years, as well as shops and butcher stalls that supply trekkers and expedition cooks.

Day 17

Trek from Kotay to Tuli Kharka (14,173 feet /4320 m) 7-8 Hours Package Tea House

Leaving Kothe, our trail is uphill trekking through dense rhododendron forest that goes over the western section of Hinku valley towards Tuli Kharka. From Tuli Kharka we can enjoy the magnificent views of Mera North, Mera Central and South face of Mera Peak.

Day 18

Trek from Tuli Kharka to Lukla via Zatrawa La (4600m./15100ft.) 9-10 Hours Package Tea House

After breakfast in Tuli Kharka, begin the final day of the trek as you head to Lukla. The last stretch to the Zatrwa La will be your last climb of the trip, and from the top, most of the route is an easy downhill slope.

Day 19

Fly from Lukla to Kathmandu, -OR- Ramechhap then Drive to Kathmandu Hotel in Kathmandu

After breakfast in Lukla, you'll take an early morning flight back to Kathmandu. Upon arrival, you'll be transferred to your hotel and will be able to enjoy the rest of the afternoon and evening at your leisure. Explore Kathmandu's streets on foot, bicycle, or rickshaw, perhaps shopping for souvenirs or seeing anything you may have missed at the beginning of your trip.

Other ideas include rewarding your muscles after the trek with a massage service at Seeing Hands (services are offered from the visually impaired), or the more upscale Kinjalla Spa. You can also take an early evening yoga class at Pranamaya Yoga, with two locations in Thamel and Patan.In the evening, choose from a selection of Nepali, French, Vietnamese, and Middle Eastern dishes in Kathmandu.

Day 20

Depart Kathmandu N/A

It's time to say farewell to Nepal. Enjoy your last moments in Kathmandu with breakfast in a café, a final stroll through the narrow alleys and temples, and some final souvenir shopping. A driver will be waiting for you at your hotel to take you to the airport for your return flight home. It's best to be at the airport at least two hours prior to departure.
Inclusions & Details
Cost Inclusion
All required trekking permits, fees and taxes
Kathmandu to Phaplu and Lukla to Kathmandu Airfare
Airport Transfers in private vehicle
Experienced English Speaking Guide and Porter during Trek
professional Climbing guide during climbing period
Insurance for Nepali tekking and climbing team
3 Nights' Accommodation in Kathmandu with Breakfast
17 Nights Accommodation during trek (full board)
Climbing Gera: Harness, Figure Eight, Rope & Snow bar
All required tents, mattresses and equipments / gear for camping
Basic medical Kit bags
Climbing gear
Cost Exclusion
International flights
Nepal entry visa fee
Lunches and Dinners in Kathmandu
Soft drinks and alcoholic beverages
Entrance fees for monasteries and museums
Hot showers and hot drinking water during trek
Trekking gear and equipment
Gratuities
Travel Insurance and emergency rescues
Phone calls, Wi-Fi, gadget charging, laundry
Other item not mentioned
Tips
06 Request A Quote
For Queries & Reservations
Group travel is a great way to discover new adventures and create memories that last forever . Choose your trip with guaranteed departure dates and join us now.
Chhewang N.Lama +977-9801046333 / +977-1-4813166
info@responsibletreks.com