Trip Style:

Tibet

Ways to Travel:

Finding Shangri-La in Tibet and Nepal

Activities:

Culture

Group Size:

2-15

High Altitude

6530 m
Activity Level:
Challenging
This trip is challenging trip for your life and adventure
Trip Overview
Our once-in-a-lifetime journey to Kailash begins in the fabled district of Humla, located in the remote far western corner of Nepal. From here we begin our five-day trek to the Tibetan border through the remote Humla, a place classed by many as the modern day Shangri-la. Here the inhabitants are predominantly Bhotias, of Tibetan descent.
This wild, remote trek takes us deep within a region of truly unspoiled natural beauty; here a diverse culture exists where people, nature and an abundance of rare wildlife exist in harmony. The path we will follow is of the ancient Silk trade route, where old men with weathered, Central Asian faces, still to this day trade supported by their trains of mule, horse & sheep. Here the men sit smoking a hookah & the women of Rajasthani descent adorn themselves in mirrors and silver coins, the Bhotias, in their turquoise, coral and amber necklaces.
In this swath of the Trans-Himalayan plateau, the mountain scenery is spectacular; the Saipal and Nalakankad range is never far away with its dominating presence over the nearby horizons. This is one of the few remaining places where the Tibetan culture stills exists in its pure form, a form untainted by the Chinese occupation which has otherwise affected much of Tibet.
The Kailash Kora, in the high plateaus of the Ngari region in western Tibet is one of the most spectacular short treks in the Himalaya, crossing the Dolma La (5,600 m) to erase the sins of a lifetime. Camping beneath the north face of Kailash, we complete the trek with a myriad of Tibetan & Indian pilgrims who have travelled through harsh conditions and over long distances to acquire merit for.  Heading East across the Tibetan plateau over high passes we arrive at a truly awe-inspiring place, the true gem of Tibet – Mt Everest. It truly is an awe-inspiring experience to stand beneath the mighty North Face of this the world's highest mountain and one can't help but be humbled by its dominating presence. Nowhere is the view of Mt Everest as spectacular as it is from right here.
With plenty of trekking, a bit of exploring and some good karma under our belts, we embark on an epic cross-Tibet jeep expedition via the scenic southern route, thus seeing much of far- western Tibet and the Himalayan range en route. We visit the Menri monastery, resplendent gompa of Tashilhunpo in Shigatse and finally arrive at the exotic capital of Lhasa, where we explore this history-laden city and its ancient gompas and palaces.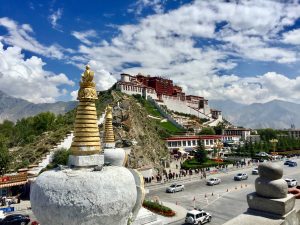 Detailed Itinerary
Day 1

Arrival to Kathmandu [1350m] Hotel in Kathmandu

You will be met upon arrival in Kathmandu and transferred to your hotel. Depending on your arrival time, there may be time for some exploring in the afternoon/evening. You will be staying at Boudhanath, a neighborhood of Kathmandu that is home to many Tibetans, and in the evening you can walk around the great Boudhanath Stupa.

Day 2

Sightseeing in Kathmandu Hotel

Today, explore the most interesting sights of Kathmandu. Spend the morning on a sightseeing tour of Patan Durbar Square (the old royal palace complex) and the holy Buddhist stupa of Swayambunath—also referred to as the 'Monkey Temple.' In the afternoon, explore the Hindu temple of Pashupatinath. Meals: Breakfast

Day 3

Evening Flight to Nepalgunj Hotel in Nepalgunj

A spectacular afternoon flight takes you to Mahendra Airport in Nepalgunj, the largest city on the steamy Terai, the flat border region between Nepal and India. The drive to the hotel passes through an old village, and you'll get the chance to experience the 'old' Nepal. Stay the night in an air-conditioned hotel and head to bed—you'll have an early wake-up call the following morning. Meals: Breakfast, Dinner

Day 4

Fly to Simikot [2950m] acclimatization Guest House in Simikot

Take the early morning flight 135 miles (218 km.) north to Simikot, the district headquarters of Humla. The town is situated on a ridge overlooking the Humla Karnali River. The flight is spectacular, cruising just over the tops of a mass of snow-covered peaks. If the flight is on time, arrive before lunch and be met by your friendly trekking crew. Simikot is an atmospheric village, a mix of local Humla and Tibetan culture and provides endless fascinating opportunities for exploring. It's likely that you will feel the jump in altitude, so take it easy today, making sure you drink plenty of water.

After lunch, slowly we shall explore Simikot and the surrounding valley.

Day 5

Trek to Dharapori [2279m/7447ft] - 4 hrs Camping

Today we start our first day of this beautiful trek with a short climb of about an hour to a little pass just over 3000m. After the pass it's a long and steep decent to Dharapori; another beautiful town. The trail goes high above the Karnali River, partly through pine forests, passing a few villages. Along the way, you meet local people, both Hindu and Buddhist, sometimes carrying their heavy loads all the way up the steep trail. People from these regions can be really friendly.

Day 6

Trek to Kermi [2670m/8757ft] 5-6 hrs Camping

It is a rather short walk today. The trail keeps on following the Karnali River, sometimes high on the slope, with the river far below you and sometimes almost level with it. The river finds its way through narrow gorges with high rocky slopes. You pass along fields with mainly barley, buckwheat, rice and potatoes.

In the afternoon you can relax your muscles in one of the two natural hot springs close to the village. It's a 30 minute walk, passing Kermi village. Kermi is a small agricultural village and is the first completely Buddhist village on the trail. From Kermi onwards, all the villages are Buddhist. There are two interesting Buddhist monasteries close to Kermi: Laikyo Gompa, a few hundred years old, is about 45 minutes from the campsite and Lhundrup Choeling Gompa, less than half a century old, is about 30 minutes from the campsite. Both are seldom visited by tourists.

Day 7

Trek to Yalbang [3020m/9905ft] 5-6 hrs Camping

Today the trail is flat or slightly uphill, passing alongside fields planted with barley and buckwheat. You can see beautiful lizards sunning themselves on rocks. After 2 hours you cross a small pass, after which it is a steep descend of about 20 minutes until you reach a big iron suspension bridge over the Sali River. The walk goes through beautiful pine forests now. Below you, you see the emerald green Karnali river.

Once and a while you meet caravans of mules and dzopa´s (a crossbreed of yak and cow). These are mostly villagers from Simikot and the Nyinba Valley to the east of Simikot. They are going to (or are coming back from) Taklakot, just across the border with Tibet, to buy goods for trading or for personal use.

In and around Yalbang there are so many interesting things to see that it is easy to spend an extra day here. Above the village there is a beautiful monastery: the Namkha Khyung Dzong Monastery. You notice you are getting near the monastery by a huge stone, with a Tibetan mantra carved on it. The Namkha Khyung Dzong is the biggest monastery in the region, with around 130 monks living there. It belongs to the Nyingmapa lineage, the oldest Buddhist lineage, which is founded by Guru Ringpoche, an important magician of the 7th century. Inside the monastery you can see a big statue of Sakyamuni Buddha and some smaller statues, among which a statue of Guru Rinpoche. The monastery has a school and a clinic, which you can visit as well. A Buddhist monk will be happy to show you around, after which you will be invited for tea upstairs. At 7 am and 4 pm there is a daily puja (a Buddhist prayer ceremony) that you can attend (please remain silent and sit down along one of the side walls, behind the monks)

Day 8

Trek to Tumkot [3389m/11116ft] 5-6 hrs Camping

Leaving Yalbang the path goes high above the karnali River again. After about 20 minutes you pass the little village yangsar. The path is mostly Nepali Flat; flat parts and sometimes going up, sometimes down. At some parts the path is spectacular and you find yourself walking in a kind of three sided tunnnerl . you will notice the environemt changing as it is getting more rocky and the big pine trees make wa for smaller bushes. You cross the karnalo river by a big wooden supsnsion bridge . The path climbs high path climbs high above the Karnali River and goes along the upper site of a deep gorge. You see the emerald green Karnali River far below you. Along the way you may meet big flocks of sheep carrying salt, an old trade still existing today.

After 3 to 4 hours, you arrive in the charming village of Muchu.

It's an hour walk to Tumkot. Actually, the main trail doesn't pass through Tumkot Village, but some small teahouses and a campsite. The actual village is some 20 minutes south of the trail. Close to the campsite and village lies a very interesting monastery of the Sakya lineage, the Dhungkar Choezom Monastery, one of the most important Sakya monasteries in the Tibetan region.

The monastery lies on a hill, it's a 20-30 minutes climb to get there. It is the only Sakya Monastery in Humla, and one of the few monasteries of this lineage in Nepal.

Day 9

Trek to Yari/Thado Dunga [3750m/12300ft] 6-7 hrs Camping

The trail climbs slowly but steadily, with a few steep climbs in between. Pretty soon after leaving Tumkot, you can see the landscape changing: it's getting more and more rocky and desolate. The few trees left are low junipers. Part of the trail goes over the dirt road that is being built at the moment. It is still uncertain when and if the road will ever be finished. You cross the small village Pani Palwang, a couple of teahouses along the road, which makes a nice place for a cup of tea or a lunch Yari Valley break. It's another 1 ½ hour to Yari or Thado Dunga, just after Yari.
Meals: Breakfast, Lunch, Dinner

Day 10

Trek over Nara Pass [4620m/15153ft] to Hilsa (2-3 hrs) then Drive to Taklakot [3755m/12320ft] Hotel in Taklakot

Today you cross the Nara La pass at 4620 meter. It's a long and tiring climb, but the views are your reward! As the trail climbs, the landscape gets more desolate. Trees disappear completely and the landscape looks more and more like Tibet. Sometimes you meet big caravans of mules, dzopa or yaks. The bigger yaks are an especially impressive sight. You pass a few teahouses at Tado Dunga; from here the trail becomes steeper. It's still 2 hours climbing to the pass, if there happens to be snow it will take a bit longer. At about half an hour from the pass you cross a few big tents (tent hotels, serving foods and drinks). You can see the Nara La pass in the distance, but due to the altitude it is still a hard climb to get there. You recognize the pass by the pile of stones (it brings good luck to add one!) and the strings of Tibetan prayer flags, carrying the prayers far away with the strong wind.

You have breathtaking views ahead into Tibet and back towards Yari far below . At the other side of the pass, it looks like you are in Tibet.

Day 11

Drive to Manasarovar [5530m/14862ft] 2 hrs Guesthouse in Manasarovar

Lake Manasarvoar is the highest freshwater lake in the world; it covers an area of 412 square kilometres and has a maximum depth of 70 metres. This stunning sacred lake sits in a basin between Mt Kailash and Gurla Mandata, it is a truly awesome location for our camp tonight. We base ourselves at the picturesque Chiu Monastery, on the northwestern shore of the lake, enjoying this fabulous location atop a craggy hill overlooking the turquoise Lake Manasarovar. There are hot-springs behind the monastery, it is respected as a holy and pure bathing place.

After completing the memorable morning Bath and Prayer we will be heading towards Darchen. It is considered as a base camp for the Holy Kailash Parikrama 60 km drive.

Day 12

Explore Lake Manasarovar and after Lunch Drive to Darchen [4590m/15060ft] 1-2 hrs Guesthouse in Darchen

Lake Manasarvoar is the highest freshwater lake in the world; it covers an area of 412 square kilometres and has a maximum depth of 70 metres. This stunning sacred lake sits in a basin between Mt Kailash and Gurla Mandata, it is a truly awesome location for our camp tonight. We base ourselves at the picturesque Chiu Monastery, on the northwestern shore of the lake, enjoying this fabulous location atop a craggy hill overlooking the turquoise Lake Manasarovar. There are hot-springs behind the monastery, it is respected as a holy and pure bathing place.

After completing the memorable morning Bath and Prayer we will be heading towards Darchen. It is considered as a base camp for the Holy Kailash Parikrama 60 km drive.

Day 13

Drive to Dharboche and Yrek to Dera Phuk [4998m/16400ft] 4-5 hrs Guesthouse in Dera Phuk

This morning we set off toward Mt Kailash for Tarboche the base for the saga Dawa festiva and the starting point of our kora around Mt. Kailash. Tarboche is marked by a tall flagpole adorned with thousands of multi colored prayer flags and Khata ( white scarf) strung out in raditating line from the pole. This morning we meet our team of yaks and Tibetan Yak herders who will escorts us around the Kora . From Tarboche we walk up the Lha Chu Valley through beautful green meadows and streams with Mt. Kailash towering above us. We follow the beautiful turquoise river which enters a narrow canyon with high, steep cliffs and spectacular waterfalls. Continuing up the valley, the north face of Kailash comes into view before we reach the 13th century monastery at Dira-puk.

Day 14

Trek over Dolma La Pass [5630m/18471ft] to Zutrul Phuk [4800m/15748ft] 9-10 hrs Guesthouse in Zutrul Phuk

We now leave the Lha Chu Valley and enter the Drolma Chu Valley, heading up towards a high pass, the Drolma La (5630m) which is the highest point in our trek. It's a tough climb to the summit which is festooned with prayer flags but from there it is all downhill or flat to Zutul-puk, with views of one of the highest lakes in the world, the breathtaking Thukpe Dzingbu Lake, known as the Lake of Compassion.

Our trail descends to the flat fields of Zutul-Puk which houses a monastery and several fascinating caves. These caves are popular for meditation, with Milarepa's cave being one of them with Milarepa's footprints and elbow prints believed to be imprinted in its walls. We camp tonight at Zutul-Puk.

Day 15

Trek to Zongdue/Darchen [2-3 hrs] then Drive to Saga [4465m/14650ft] 5 hrs Hotel in Saga

This morning we have an easy walk along some impressive gorges and around many mani stones and mani walls, with magnificent views of Mt Kailash along the way. We then enter the Bharka plain and it's about an hour's walk through this desert-like landscape to Darchen.

Our kora is finished – we have erased our sins, endured cold nights and mornings, crossed one of the highest passes in the world and met countless fellow pilgrims along the way. So we bid the sacred lakes and holy mountain farewell as we head back east to Paryang. The scenery along this section is some of the most beautiful of the entire journey, with Tibetans, horses, yaks and sheep against the background of the Himalayas, ansd continue drive through the vast Thang Kiang Naga, or ʻPlain of wild donkeys and grass' on our way to Saga. We have 330km to cover and pass through several small towns, including Zhongba, crossing the Torkyo La at 4880m before coming down into Saga.

Day 16

Drive to Rongbuk/EBC [5010m/16440ft] 6-7 hrs Tented Guesthouse in Rongbuk

In the beginning we cross Brahmaputra River (Yarlung Zangbo River) you will have a long driving to Mount Everest (about 360km). Though being a long driving of about 8 hours, but the views along the road are tremendous beautiful. In clear days, you can see the clear face of Shishapangma Peak and enjoy the beautiful view of Pekutso Lake. When you finally get to the Rongbuk Monastery, and get the first sight of the mighty Everest, you will immerse in a solemn ethereal mood and find all the efforts you have made along the long way are not in vain. Located about 5100 meters above the sea level, Rongbuk Monastery is the highest monastery in the world. It is the best location to take some great photos of the front face of Mount Everest. The rest of today is free for you visit the Rongbuk Monastery and explore surrounding landscape.

If you visit Mount Everest during off season (November to April), you will usually accommodate at Rongbuk Guest House near Rongbuk Monastery; if you visit Mount Everest during the peak season (May to October), you will usually accommodate at the Tibetan Tent Camp which is about 4km further from Rongbuk Monastery. Please note that the accommodation conditions at both places are very basic. Only dorm beds are available.

Day 17

Explore Everest Base Camp and Drive to Shigatse [3900m/12800ft] 5-6 hrs Hotel in Shigatse

Wake up early to enjoy the marvelous sunrise on the peak of the world. Before returning back to Shigatse, you will have some free time to enjoy more landscape of the majestic Everest.

The top part of the Mount Everest is always covered by snow all the year round, and when the sun shines on the mountain, the peak is like a giant white pyramid, which is one of the most famous sceneries of Mount Everest. In bright days, you can also see a wisp of cloud hanging above the top of Mount Everest. It flies eastward in the fast western wind just like a flapping flag. This unique phenomenon is the spectacular "Cloud Flag". The cloud will change from surging waves into a thin cooking smoke or from galloping steeds into the mysterious veil of a goddess.

Till now your Mount Everest adventure is about to end. The rest of today is to drive back to Shigatse City. You will get to Shigatse in the afternoon, then take a visit to the official seat of Panchen Lama – Tashilhunpo Monastery which is also the largest and most influential Gelug Monastery in Shigatse prefecture. Here you will see a giant statue of Future Buddha, the largest one of its kind on earth ( 26.2 meters high and 11.5 meters wide ), decorated with precious pearls, turquoises, corals and ambers.

Day 18

Drive to Lhasa visa Yandrok Lake [3650m/11975ft] 6-7 hrs Hotel in Lhasa

Today, you will leave Shigatse and drive about 8 hours to Lhasa (altitude: 3,700m), the capital city of Tibet. It may be a long journey, but there are many things to do along the road. After two hours' driving, you will get to the historical city of Gyantse, then go to visit the mysterious Palcho Monastery (altitude: 4,040m). The monks and tradition of three important sects of Tibetan Buddhism – Sakyapa, Zhalupa and Gelukpa, peacefully coexist in this monastery. Its Kumbum, which is 35 meters high and has 76 small chapels with hundreds images of Kriyatantras, is believed to be the largest such structure in Tibet. Keeping driving about 2 hours from Gyantse, you will stop along the road and see the imposing Karola Glacier (altitude: 5,045m) towering aloft on the left side of the road. Moving on not very far from Karola Glacier, you will reach the holy Yamdrok Lake (altitude: 4,400m). As the largest fresh lake in the northern of the Himalaya Mountains, it spreads about 675 square meters from south to north, like an eardrop lying in the arms of snow-capped giant mountains. Viewing from a distance, you can see fertile pastures full of yaks and sheep, and some small Tibetan villages along the lakeshore. Continuing your trip, you will arrive at Lhasa in the afternoon. Have a good rest!

Day 19

Full day sightseeing in Lhasa Hotel in Lhasa

After our breakfast at Hotel, we start today's Lhasa exploration with an exciting visit to the landmark – Potala Palace which is regarded as one of the most beautiful architectural building in the world. You will climb up the palace along the zigzag stone paths with white-and-red walls to the top of the palace where you can not only appreciate the exotic Tibetan-style architecture, but also get a great view of Lhasa's urban areas, then walk into the inner space of Potala Palace to explore the stately chapels and learn about the history of the palace.

Continuing your exploration, you will then get to Jokhang Temple which is considered as the spiritual heart of Tibetan Buddhism. Each day, there are thousands of pilgrims coming from different places in Tibet to the temple to worship to the Buddha. This temple is also known as the "house of Buddha" because it keeps the precious Jowo Rinpoche, the life-sized (5 foot/1.5m) image of the Shakyamuni at the age of 12. The last site for today's exploration is the famous Barkor Street. It is a circular and wide street encircling the Jokhang Temple. The local people like to walk on the street for several circles usually in the late afternoon as a daily tradition of pilgrimage. The street also has many shops selling a wide variety of traditional Tibetan goods, religious items and handcrafts.

Day 20

Full day sightseeing in Lhasa Hotel in Lhasa

From Ngari Phuntsom, we drive another 300km east cresting passes marked with prayer flags and cairns. The panoramas are simply divine with the high mountains bordering Nepal to our right and pebbly streams, small lakes & small Tibetan villages all around us. We traverse this amazing Tibetan landscape, crossing more high passes and here as if a mirage, the landscape gently transforms into a plateau of high-altitude desert sand dunes. There's time to climb up to the wind-sculpted ridges and gaze over a bordering lake. We camp near Saga.

After Drepung Monastery; we drive about 12/13 kilometers to another famous monastery in Lhasa – Sera Monastery. It is famous for the spectacular "Buddhism Debating". As a daily routine, the monks gather in a courtyard, and debate on the Buddhist doctrines with supplemented gestures, which is thought to be helpful to, facilitates better comprehension of the Buddhist philosophy to attain higher levels of study.

After your Lunch; today's final destination and most beautiful Norbulingka which used to be the former summer palace of Dalai Lamas in the ancient time and now is a public park. It is famous for its Potrang, the private palaces of former Dalai lamas with grandiose Tibetan architecture style. After enjoying Norbulingka and a beautiful garden, you will be transferred back to your hotel. The rest time is your own free time to rest.

Day 21

Drive to Gonggar Airport (1:30 hrs) and Fly to Chengdu/Kathmandu N/A

After your breakfast drive to Gongaar airport about 1:30 hrs for departure flight to Kathmand or Chendu and Fly Home.
Inclusions & Details
Cost Inclusion
2 Nights Hotel in Kathmandu with Breakfast
1 full day guided sight seeing with all monument fees in Kathmandu-Swayambhu, Pashupati & Patan.
Transfer in New Model Land Cruiser (Prado) in Tibet, all Permits & Monastery entrance fees in Tibet with Tibetan Guide.
One highly experienced guide who speaks English, Nepali & Tibetan
One cook and kitchen support staff in Nepal Trek
Yaks and Yak men for luggage whilst completing the Kailash parikrama
All meals during the trip
Nice Hotels in Lhasa and Central Tibet
All camping and cooking equipment
All camping Charges
All airport and Border Transport.
Tibet Visa European 85$ (US$ 170 For American)
Cost Exclusion
photography fee for any Monuments
Lhasa- Kathmandu Flight (400) Approx.
Insurance for Clients and Emergency Rescue
Personal beverages
Domestic and International access baggage charge
Tips for Nepali and Tibetan support staff
06 Request A Quote
For Queries & Reservations
Group travel is a great way to discover new adventures and create memories that last forever . Choose your trip with guaranteed departure dates and join us now.
Chhewang N.Lama +977-9801046333 / +977-1-4813166
info@responsibletreks.com