Trip Style:
Ways to Travel:

Guided

Activities:

Trekking

Group Size:

2-12

High Altitude

5500 m
Activity Level:
Challenging
This trip is challenging trip for your life and adventure
Trip Overview
This leisurely two-week itinerary allows a direct approach to the foot of Mt. Everest, the world's highest mountain. You trek through enchanting Sherpa high country and unspoilt Buddhist monasteries to Everest Base Camp and the amazing Khumbu Glacier. This trek gives you the opportunity to climb Kala Pattar, a 5554 meter peak on the way to the Everest B.C, which is the superb vantage point for magnificent views of southwest face of Mt Everest and surrounding Himalayan Mountains. Your trail along the Khumbu Glacier takes you to the foot of the Everest where you have an amazing perspective on the Khumbu Ice Fall.
Your itinerary has been designed to ensure your wellbeing in the world's highest trekking region and that you will safely reach the destination of spectacular Mt Everest Base Camp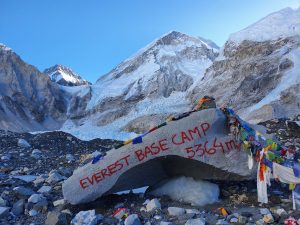 Trip Highlights
Starting From

 : 

Kathmandu

End at

 : 

Kathmandu

Grade

 : 

Moderate-difficult

Max. Elevation

 : 

5500m

Activity

 : 

Trekking Adventure

Mode of Trek

 : 

Teahouse

Best Season

 : 

May to October
Detailed Itinerary
Day 01

Arrival in Kathmandu Hotel in Kathmandu

Upon your arrival at Kathmandu, we will greet you and transfer you to your hotel. Depending on your arrival time, we can organize some exploring in the afternoon to introduce you to this amazing place and its unique ancient-modern mix and one of our Representative from Responsible Treks  shall brief your more about the itinerary

parroxman76

Day 02

Sightseeing Kathmandu Breakfast [ Hotel in Kathmandu ]

Kathmandu, being a historical and cultural heart of Nepal, is a popular destination for tourists, trekkers and adventure seekers. The city presents a wonderful mixture of Hinduism, Tibetan Buddhism and Western influence in the Valley. The ancient cities Kathmandu, Patan and Bhaktapur are the major attractions, with their evocative city squares and represent an epitome of harmony in urban design, elegant architecture and refined culture. After a hotel breakfast we will explore the must see UNESCO sites of Kathmandu and its surroundings. The morning will spent with a sightseeing tour of the holy Hindus Temple of Pashupatinath, Patan Durbar Square and the holy Buddhist Stupa of Swayambhunath + Boudhanath.The Buddhists shrine of Boudhanath is one of the largest Stupas in the world and one of the holiest Buddhist pilgrimage plus a tourist destination in Kathmandu. The area of Boudhanath is also famous for over 50 Tibetan Gompas or monasteries.Pashupatinath, which houses a sacred lingam, or the phallic symbol of Lord Shiva is one of the holiest temples in the Hindu religion and was first mention in 365 AD. The Aryaghat alongside Pashupatinath and on the banks of the Bagmati River is a famous funeral site for the Hindus. It is such an important pilgrimage site that any Hindu should visit it once in their life and there is a constant stream of sadhus coming and going from Nepal and India. Non-Hindu visitors are only permitted to view the temple from the east bank of Bagmati River, as entrance into the temple is strictly forbidden to all non-Hindus.

The city thoroughfares whish are full of ancient places, temples and shrines, noted for their exquisite carvings. Patan Durbar Square is one of the three ancient cities from which Kathmandu Valley was made up of – located at the south of Kathmandu city commonly known as the city of fine arts. According to legend, the founding of Patan dates back to Pre-Christian times. As opposed to the Malla Kingdoms of Kathmandu and Bhaktapur that were mainly influenced by the Hindu religion, Patan was for many years a major Buddhist city. It is believed that it was founded in the third century B.C. by the famous Buddhist emperor, Ashoka – who visited the town while on a pilgrimage from Northern India and built four stupas that enclosed the centre of the old town. This would make it the oldest continuing Buddhist town in the world.

Swayambhu meaning the "The self-existent" is said to be 2000 years old and is one of Nepal's most important Buddhist sanctuaries located on a hill top. It is popularly known as 'Monkey Temple' as the area owing to the large number of monkey population residing in the area. The oldest inscription discovered dates back to the 5th century and refers to the founding of a monastery. The whole hill is a mosaic of small Chaityas (memorials) and temples and it is one of the only places that you can see the Stupa, Pagoda and Shikar style of temple. It is a sacred Buddhist place of worship, but it is also holy to Hindus and you can also find Hindu shrines here – a fine illustration of the religious tolerance found in Nepal.

Day 03

Fly to Lukla [ 2.800m] Trek to Phakding [2.656 ] [3-4 hours Breakfast , Lunch and Dinner [ Local Teahouse ]

A spectacular flight and hair raising landing on a steep mountain runway brings us to the start of our trek at the village of Lukla [2800m]. After meeting the crew, we head up the Dudh Koshi Valley on a well-marked trail to our first lodge near the river at Phakding.

Day 04

Trek to Namche [ 3.450 m] [ 5-6 Hours] Breakfast Lunch and dinner [ Local Teahouse ]

From Phakding, we cross and re-cross the river on high suspension bridges. Beyond Monjo is the entrance to the Sagarmatha National Park which was set-up in order to protect and preserve this fragile mountain environment. We then ascend quite steeply to Namche and along the way, if the weather is clear, catch a first glimpse of Mt Everest in the distance. Namche is the main trading village in the Khumbu and has a busy Saturday market – a meeting place for the Hindu traders from the lowlands and the Tibetan yak caravans that have crossed the glaciated Nangpa La.

Day 05

Rest Day in Namche - Explore Khumjung [ 3.786m] Breakfast Lunch Dinner [ Local Teahouse]

Namche is tucked away between two ridges amidst the giant peaks of the Khumbu and has an abundance of lodges, tea shops and souvenir shops as well as a magnificent outlook. It is an ideal place to spend a rest day, acclimatising to the new altitude before heading off towards Tengboche. Options for acclimatisation walks include a visit to Khunde Hospital which was set-up by Sir Edmund Hillary, or a one hour walk up to the Everest View Hotel above Namche for the sunset view of Ama Dablam, Nuptse, Lhotse and Everest. There are also good views from the National Park Centre and Museum just above the town.

Day 06

Trek to Thyangboche [ 3.864m ] [5-6 hours] Breakfast Lunch and Dinner [ Local Teahouse]

From Namche, the trail contours around the side of the valley, high above the Dudh Kosi. Now we get our first really good views of the great peaks of the Khumbu including Mt Everest, Lhotse, Nuptse and Ama Dablam. Passing by several villages and numerous tea shops, we descend steeply to a bridge over the river at Phunki Tenga. The village is an excellent lunch spot, and here we can rest before making the steep climb to Thyangboche. Although tiring, the hike up the zigzag path has numerous distractions, with rhododendron bushes, beautiful birds and superb mountain scenery. Tengboche is famous for its legendary monastery, the largest in the Khumbu. We stay near the monastery with Everest, Lhotse and Ama Dablam framed in the doorway of the lodge.

Day 07

Trek to Dingboche [ 4.300m ][ 6-7 hours] Breakfast Lunch Dinner [ Local Teahouse]

We descend steeply through a forest, cross the Imja Khola and climb steadily to the village of Pangboche. This is directly opposite Ama Dablam [6,856 m], and has exceptional views of the mountain, with the gompa, mani walls and scattered pine trees in the foreground. Old Pangboche's gompa is the oldest monastery in the Khumbu, founded in 1667 and housing relics said to be the skull and hand of a yeti. A further two to three hours walking brings us to Dingboche.

Day 08

Rest Day in Dingboche Breakfast Lunch Dinner [ Local Teahouse ]

Today you can enjoy another day for acclimatization. We will do an excursion to Chhukung valley via the Imja Khola valley to get some fabulous views including the stupendous, 3.600 meters high wall of Lhotse [8.501 m], neighbor to Everest, and the north face of Ama Dablam, with its fluted ice walls. The high ridge point of Chhukung Ri [5.560 m] will provide an incredible amphitheater view of the Chhukung area as well as the west face of Makalu [8.463 m].

Day 09

Trek to Lobuche [ 4.930m ] [ 5-6 hours] Breakfast Lunch Dinner [ Local Teahouse ]

We continue up the wide valley beneath the impressive peaks of Cholatse and Tawache on the left. We then turn right and climb more steeply towards the foot of the Khumbu Glacier. At the top of this climb there are many stone cairns, built as memorials to the many Sherpas who have died while climbing Mt Everest. Our path then climbs gently along the glacier, to eventually reach the cluster of houses at Lobuche.

Day 10

Trek to Gorakshep [ 5.184 m ][ 5-6 Hours] Breakfast Lunch Dinner [Local Teahouse ]

To reach our next objective, Kala Pattar, the trail follows the Khumbu Glacier, and offers superb views of the surrounding mountains, especially where the path is forced to rise to cross a tributary glacier. We stop for lunch at our lodge for the night, Gorak Shep. Later in the afternoon, when the sunset colours begin to appear on Everest, we make our way to the top of one of the finest viewpoints in the Everest region, Kala Pattar [5554m]. As the light begins to fade we stroll back to our lodge at Gorak Shep and have an early night in preparation for our trek to Everest Base Camp the following day.

Day 11

Trek to Everest Base Camp [ 5.357 m] ; Trek Back Gorakshep / Lobuche Breakfast Lunch Dinner [ Local Teahouse]

To reach Everest Base Camp, a very early start is required, as it takes several hours on a trail which weaves its way through ice pinnacles and past the crevasses of the Khumbu Glacier. On the return leg, we can take a higher route to get a spectacular view of the Khumbu Ice Fall and the route to the South Col. We return to either Gorak Shep or Lobuche to stay for the night.

Day 12

Trek to Pheriche [ 6-7 hours] Breakfast Lunch Dinner [ Local Teahouse ]

Today is downhill most of the way, as we retrace our steps to Duglha and descend to Pheriche. The Himalayan Rescue Association have a trekkers aid post here and it is quite interesting to visit.

Day 13

Trek to Thyangboche [ 5-6 hours] Breakfast Lunch Dinner [ Local Teahouse ]

This morning we head on down to the lovely twin villages of Pangboche. New Pangboche is where we'll stay and Old Pangboche is home to the oldest monastery in the Khumbu, founded in 1667, which houses relics said to be the skull and hand of a yeti. We continue to follow the river and, after crossing it, climb back up through birch and rhododendron forest to Tengboche. Kwangde, Tawache, Everest, Nuptse, Lhotse, Ama Dablam, Kantega and Thamserku are just a few of the Himalayan giants to be seen.

Day 14

Trek to Namche [ 3.450m ] [ 7 Hours] Breakfast Lunch Dinner [ Local Teahouse ]

From Tengboche we descend to the bridge over the Dudh Kosi at Phunki Tenga, where there are water driven prayer wheels, before making our way back up from the valley floor before contouring around, with those incredible views, to Namche.

Day 15

Trek to Lukla [ 2.800 m ] [ 6-7 Hours] Breakfast Lunch Dinner [ Local Teahouse]

Our final day's trekking follows the Dudh Kosi back down to Lukla. This last evening in the mountains is the ideal opportunity for a farewell party with the sherpa guides and porters, where we can sample some chang, try Sherpa dancing and look back on a memorable trekking experience.

Day 16

Fly to Kathmandu Breakfast [ Hotel In Kathmandu ]

Today we wake up early and after the breakfast, we will fly back to Kathmandu. Upon arrival, you are free to spend your time relaxing, shopping, more exploring to the crazy town of Thamel! – The tourist bag backer's districts and you will be amazed with such small place but so many shops. During the afternoon, we have little free time to search best souvenirs in Thamel.

Day 17

Fly back Home Breakfast

After hotel breakfast, you are free until it is time to check out from the hotel. Later on we will transfer you to the airport in time for your flight home. (3 hrs before flight departure time)

Important Notes:
Your safety is of paramount concern whilst travelling in this Himalayan country. Please note that your guide has the authority to amend or cancel any part of the itinerary if it is deemed necessary due to safety concerns. Every effort will be made to keep to the above itinerary, but as this is Adventure Travel in a remote mountain region, we cannot guarantee it. Weather conditions, road conditions, political condition, vehicle breakdowns and the health of fellow travelers can all contribute to changes. We will try to ensure that the trip runs according to plan, but an easy going nature will be an asset!
Inclusions & Details
Cost Inclusion
Airport Transfers
3 Night hotel in kathmandu with breakfast
1 day guided heritage sightseeing with all monuments fees and private transportation in Kathmandu
14 Days Full board Trek (all meals: breakfast, lunch & dinner – accommodation in teahouse)
Everest National Park permit and TIMS card
One trained and certified trekking guide + two experienced porters,
All necessaries for Nepali staffs (All meals, accommodations, insurance, salary etc)
Domestic flights (KTM-LUK-KTM)
Cost Exclusion
Insurance and Emergency Rescue
Lunch and dinner in Kathmandu
Any bar bills (soft drinks, beer etc)
Personal clothing's and expenses
Any unforeseen expenses
Tips.
Anything that is not mention above
Date & Price
If you are looking for a group to join this trip please click the Fixed Departures tab for more information on departure dates, availability and price
Trip Name
Start dates
End Date
Price
Availability
06 Request A Quote
For Queries & Reservations
Group travel is a great way to discover new adventures and create memories that last forever . Choose your trip with guaranteed departure dates and join us now.
Chhewang N.Lama +977-9801046333 / +977-1-4813166
info@responsibletreks.com