Trip Style:

UMT 1

Ways to Travel:

Drive, Hiking, Sightseeing, Tour

Activities:

Tour

Group Size:

2-14

High Altitude

4230m
Activity Level:
Easy

Trip Overview
"Mustang" A forbidden Kingdom until late 90. Its an ancient Kigdom tucked away along the deepest river gorge in the world, the Kali Gandaki;a remote and starkly beautiful section of the "Tibetan" high altitude desert bordered to the South by some of the Highest Mountains- Annapurna & Dhaulagiri.
We continue the exploration of Mustang, started by the early, intrepid explorers of the Himalaya, taking some of the less trekked routes through this Sun-drenched region, often following the Kali Gandaki river-bed, other times trekking on spectacular trails high above it, and descending through incredibly sculpted gorges, wondering at the ancient cave dwellings we see carved into the Mountains.
Now is the right time to visit Upper Mustang while it is still pristine, intriguing and with a sense of the forbidden. It will very soon change as the roads are coming fast and people of this ancient culture are even starting to seell thier steeds. Now is the time …when Nepal needs your real support.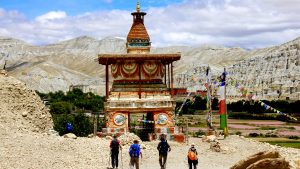 Upper Mustang Trek
Trip Highlights
Starting From

: Pokhara

– Jomsom

End at

: Jomsom – Pokhara

Duration

:

10 Days

Grade

: Easy,

Moderate 

Max. Elevation

: 4230

m

Activity

:

Trekking Adventure

Culture

: Thakali

, Buddhist, Bon, Magar

Best Season

: March

 to November

Himalayan sights

:

Annapurna Range, Dhaulagiri Range, Nilgiri Himal and many more…
Detailed Itinerary
Day 01

Arrival in Kathmandu (1.300 m) Hotel in Kathmandu

It is a panoramic thrill flying into Kathmandu on a clear day. The views of snow-capped mountain peaks sprawling down below you are almost ecstatic, beginning a whole chain of memorable experiences that stay with you for a long time. Upon your arrival at Kathmandu, our representative will greet you at airport and escort you to your hotel. At the hotel you will be briefed about your daily activities. Depending on your arrival time, we can organize some exploring in the afternoon to introduce you to this amazing place and its unique ancient-modern mix. Tonight you will be staying next to the holy Boudhanath Stupa.

The Buddhists shrine of Boudhanath is one of the largest Stupas in the world and one of the holiest Buddhist pilgrimage plus a tourist destination in Kathmandu. It stands with four pairs of eyes in the four cardinal directions keeping watch for righteous behaviour and human prosperity. Boudhanath is part of the shared history of Nepal and Tibet, with Tibet having held ruling privileges over the site until the last century. It is built on an octagonal base inset with prayer wheels and houses of Lamas or Buddhist priest, monasteries and shops ring the stupa. The area of Boudhanath is also famous for over 50 Tibetan Gompas or monasteries.

Day 02

UNESCO Sites tour in Kathmandu and Evening Fly to Pokhara Hotel in Pokhara

Kathmandu, being a historical and cultural heart of Nepal, is a popular destination for tourists, trekkers and adventure seekers. The city presents a wonderful mixture of Hinduism, Tibetan Buddhism and Western influence in the Valley. The ancient cities Kathmandu, Patan and Bhaktapur are the major attractions, with their evocative city squares and represent an epitome of harmony in urban design, elegant architecture and refined culture.

After a hotel breakfast we will explore the must see UNESCO sites of Kathmandu and its surroundings. The morning will spent with a sightseeing tour of the holy Hindus Temple of Pashupatinath, Patan Durbar Square and the holy Buddhist Stupa of Swayambhunath and Boudhanath.

While you are touring around UNESCO sites in Kathmandu, we will apply for the Upper Mustang Restricted Area permit through Nepal immigration office with the exact said documents for the permits. After the sightseeing, one can prepare his/her trekking gears or equipment. Those who wish to rent the trekking gears can go to the crazy town of Thamel! – The tourist bag backer's districts where one can be amazed with such small place but so many shops. Here we can have time to explore, rent or buy standard local quality trekking gears (imitated company products) and also search for best souvenirs for our loved ones.

Day 03

Fly to Jomsom (2.720 m) [25 Minutes] and Trek to Kagbeni (2,900 m) [4 Hours] Package Tea House

We are up early this morning around 5:00 am for our spectacular mountain flight to the district headquarters of Mustang, Jomsom. Once on the ground, at 2.720 meters, we look forward to being greeted by the sound of jingling horse bells as the Mustangye people pass by with their pony caravans. We trek up the windy Kali Gandaki valley to Kagbeni. The wide trail along a sandy, saligram-filled riverbed provides views of the surrounding peaks of Dhaulagiri, Tukuche and Nilgiri, and to the south the entire Annapurna Massif.

Kagbeni, spectacularly situated atop a cliff overlooking the confluence of the Kali Gandaki and the Jhong Khola rivers, is the last village in Lower Mustang and guards the entrance into Upper Mustang, visible across the Kali Gandaki riverbed. It is an oasis of green fields in the midst of rocky, arid mountains, with Nilgiri looming grandly behind it. This ancient, partially ruined citadel town provides us with a taste of scenes to come in upper Mustang, with its narrow alleyways and tunnels, irrigation canals, green fields of barley and its massive, newly-restored brick-red Sakya Gompa, 800 years old. We can also enjoy wandering past the ancient, crumbing, 100-room King's Palace. At the police check post at the north end of the village where a sign reads 'Restricted area, tourists please do not go beyond this point', we will complete our paperwork to enter Upper Mustang tomorrow. We camp for the night in a field near the village with fantastic views down-valley to Nilgiri!

Day 04

Trek to Chele (2.980 m) [5-6 Hrs] Package Tea House

After breakfast, we enter the restricted area of Upper Mustang with our guide and Sherpa – we will have quite the caravan in tow! We first head high up a rough trail to a ridge, where we have wonderful views of the patchwork fields at Kagbeni and all the way to Nilgiri down the valley. We continue along the eastern side of the Kali Gandaki, high up on the plateaus above the riverbed, all the time with magnificent views from all sides.  We head north past the red, white and black Chortens to the fortress-like village of Tangbe (3.030 m). This village has a labyrinth of narrow alleys amongst whitewashed houses, fields of buckwheat, barley, and wheat and apple orchards, unique in Mustang with its moat-like drainage system.

About an hour and a half past Tangbe we reach Chhusang village (2950m) and a naturally formed tunnel through which the Kali Gandaki flows. There is a salt mine two hours from Chhusang; the salt trade was of utmost importance to Mustang in years past, and much of the wealth of the villages came from this trade. Across the Kali Gandaki River, high up in the dramatic cliff faces are clusters of ancient caves, which will keep us wondering about the people who have lived in them in times past.

The trail continues up the valley to Chele, a lively village with several guesthouses and extensive wheat and barley fields. The culture from Chele north becomes more Tibetan; sheep horns adorn the houses, and there are protective amulets in the shape of a cross on the walls of the houses.

Day 05

Trek to Syangbochen or Geling (3.850 m) [6 Hrs] Package Tea House

The path climbs steeply up to a ridge and we really know we have arrived in the classic high altitude desert of the Tibetan plateau! The scenery is truly awesome. Our guides take us past tributary river valleys to a spectacular, steep canyon-side trail leading towards the Dajori La (La means pass), at 3,600 m. From here we descend to Samar village, formerly a staging post for Khampa raids into Tibet. Passing through the village's entrance and exit chortens we descend steeply to the Samarkyung Khola (river) where we take the right fork and head towards the sky again to the chorten-topped Bhena La (3,840 m). We continue past seasonal villages along a lovely, wooded trail with wonderful views across the canyons, climbing sharply up to the Beg La and, eventually, the Yamda La (3,985 m) where we are rewarded with spectacular views! A steep switch back leads to the small hamlet of Syangbochen.
Accommodation :  Tea house , Syangbochen

Day 06

Trek to Ghemi (3.520 m) [4-5 Hrs] Package Tea House

After gentle climb levels out to a Chorten, it is a quick descent to the picturesque village of Geling. There is an old gompa above the village; ancient meditation caves in the eroded cliffs visible above and traditional Mustangye houses surrounded by barley fields. From Geling we keep ascending to Zaite village, which is about an hour and further up for 1 and ½ hours to reach the Nyi La (4000m). We cross over this pass entering the center of Mustang, which is called the Lo region. Then gently descending and contour hillsides to the Ghemi La. Stopping to admire the views we then descend steeply down to Ghemi, a sprawling village of white-washed houses and terraced fields, with a gompa and a red nunnery at the far end of the village, fields of buckwheat glowing in the late afternoon sun as we arrive and relax.

Day 07

Trek to Tsarang (3.809 m) [4-5 Hrs] Package tea House

Today we head down to a bridge crossing the Ghemi Khola (river). From here, the trail looks across the valley to ochre, blue and steel-grey cliffs, and leads us past the tri-coloured chortens so characteristic of the Kingdom of Lo to what is said to be the longest and most spectacular mani wall in Nepal. Looming ahead of us is a cluster of gigantic, ancient chortens, backed by dramatic, sculpted cliff-faces, an awesome sight!

We continue along the trail, passing the turn to Lo Gekar and Dhakmar, which we will visit on our return trip. From the turn we start our climb and once we cross the Tsarang La it is an easy ride into the fortified village of Tsarang where we camp for the night. Tsarang is a large village built on top of the Tsarang Khola canyon, stone walls separating the houses and forming tunnel-like paths, with willow trees and an irrigation ditch, many shops, its own hydro-electric plant and quite a few guest houses! The huge five-story Tsarang Dzong dominates the village, a Tibetan-styled fortified palace built in 1378, and the large, ochre-hued Tsarang Gompa, of the Gelugpa School, with the greatest library in Lo. The dzong has a wonderful, old prayer room with a gold-printed prayer book and a fascinating array of statues, thankas and large Buddha paintings that the resident lama will show you, and the withered 500-year-old hand of the master architect of the palace! In the afternoon, take a walk through the maze of paths to the dzong and friendly gompa before dinner and watch also for the local women who will be herding their sheep through the narrow, walled paths as dusk falls.

Day 08

Trek to Lo Manthang (3.810 m) [4-5 Hrs] Package Tea House

Leaving Tsarang on a trail leading down and across the Tsarang Khola, we climb steeply up a rocky trail to a cairn on the opposite ridge and then follow the Thuling Khola on the new, dirt road towards Lo. The multi-hued canyons spread themselves impressively around us, and in the distance we see the huge Sungda Khola. Once past that landmark, we reach the tiny, green doksa of Sungdala, where we'll stop for tea and maybe lunch at the one small teahouse.

Continuing along the same trail, the landscape is very Tibetan in character, the high desert plains of the Himalaya. We start to see snow peaks ahead of us as we near the Lo La, at 3960 meters. The pass leads through a partial tunnel of rock, and to the right of this are strung Tibetan prayer flags. Climb to the ridge to the right for wonderful views down to Lo Manthang and the aptly named ʻPlains of Aspiration', below us.

The fabled walled city of Lo Manthang, with a single entrance through which only the King, Queen and Kempo (Abbot) are allowed to ride – all others must walk, to pay their respects to Chenrezig – is a mythical city. And here we are! We get settled into our teahouse, our home for the next few nights and get set to explore!

Day 09

Excursion to Choser Valley Package Tea House

On the day trips we will get out and explore the amazing land and culture around Lo but if you prefer, then you are free to stay and relax or wander the intriguing streets of Lo. There is an amchi that runs a Tibetan herbal medicine clinic in town, two schools and even a coffee shop along with the increasing number of shops to visit-

Leaving Lo Manthang along a wide, canyon trail, past dry gullies and an ancient, ruined fortress, we finally reach the cave village of Chosar with the deep-red Nyphu Gompa built into the rock face. Cross two bridges, plenty of time for photographs before rounding the chorten-toped bend, where we get views of Gharphu Gompa on the east banks of the Mustang Khola. Past the gompa is an incredible cave-dwelling site called Jhong Cave, which you negotiate by ladders and through small tunnels. This fascinating site is reputed to be 2500 years old. In front of us, a range of spectacular snow-peaks marks the border with Tibet, and around us gurgling streams and green meadows line our trail.

Day 10

Trek to Dhakmar (3.820 m) via Lo Gekar Package Tea House

Sadly, we must leave magical Lo Manthang, but new adventures await us on our route south as we take an alternative route to Dhakmar via Lo Gekar, visiting some villages we did not see on the way north. We head out the gates of Lo and make our way southwest, off the main trading trails and into an area crisscrossed with herders' trails. The trail climbs steadily to a cairn on a pass at 4000m, offering a last glimpse of Lo Manthang where we can stop to give our steeds a rest and enjoy this last view! Our trail continues to climb to a ridge and a large cairn marking a pass into a side valley, which we continue on past to cross the Chogo La, at 4.325 m.

Our trail traverses above a big grassy valley, before we cross a ridge and have a long rough descent in a gully to a large chorten in a grassy valley. We cross the Charang Khola and approach Lo Gekar (which means 'pure virtue of Lo') and the Ghar Gompa, said to be one of the oldest monastery in Mustang built in 8th century. The Gompa is said to help built by Guru Rinpoche, the founder of Tibetan Buddhism and the main room houses a huge statue of Maitreya, the future Buddha.

Our trail climbs up to our next pass, the Mui La at 4.170 m. before we descend through an eerie but stunning, eroded landscape to the beautiful village of Dhakmar. A dramatic, red canyon wall with many ancient cave dwellings dominates Dhakmar

Day 11

Trek to Ghemi (3.420 m) [1-2 Hrs] Then Drive back to Jomsom (3-4 hrs) Package tea House

From Dhakmar, we continue the trail through a scenic green valley leaving behind the past tri-colored chortens – the longest and most spectacular Mani wall in Mustang and hike down to the dusty hill crossing a bridge to the Tangmar Chu. Reaching Ghemi, We will catch our Local/private Jeep at Ghemi and drive back south towards Jomsom via Kagbeni.

We bid farewell to Chhusang and turn our trusty steeds south to Kagbeni, the gateway to Upper Mustang. We will have lunch here and enjoy the feeling of being perched between two worlds – we are leaving the ancient Kingdom of Lo behind us and are heading down into the land of roads, planes…and pizza? We have only a few hours more with our horses and our crew but we will nevertheless be glad to reach Jomsom and get out of the windy river bed and into a tea house for a welcome shower and a real bed!

Day 12

Fly back to Pokhara (827 m) [25 Minutes] & Afternoon fly back to Kathmandu Hotel in Kathmandu

Sadly, it's time to leave the magical Kingdom of Lo and bidding farewell to Mustang we head back to the greenery of the middle hills. This morning we need to be up and ready for the planes – they come early to make the best of the (usually) calmer weather in the early morning. We are by now familiar with the winds that race down the Kali Gandaki riverbed by midday and we sure don't want to be in a plane then!

We enjoy this incredibly spectacular half hour flight to Pokhara and later afternoon flight back to Kathmandu. After checking into our hotel we have the rest of the day to just relax after our trek!!! Depending on your energy levels after your long days on the trail, you can do your relaxing in a Hotel café or bar, getting a massage or heading out for shopping or a spot of sightseeing. Lunch and dinner are free to explore the range of food available – dazzling after our time spent on the trail – and we can meet up for meals or take some out to reflect on the amazing experience we've just had. If you'd like to go exploring the food options on your own we will give some good recommendations!

Day 13

Drive to airport & Fly home. N/A

Today after the hotel breakfast, we can sit back and spend the morning leisurely; perhaps catch up on some last minute shopping or trading email and organising photos with your travel companions. Later on, we will transfer you to airport in time for your flight home. (3 hrs before flight departure time)
Inclusions & Details
Cost Inclusion
Upper Mustang Restricted Area Permit and ACAP
Ground Transportation in Private Car in KTM
Three Nights Hotel in Kathmandu with Breakfast
Full Day Guided Heritage Sightseeing with all Monument Fees in Kathmandu
Kathmandu-Pokhara- Kathmandu in Flight
Bus Station Drop and Pickup
Two Nights Hotel in Pokhara with Breakfast
Domestic Flight for Guest and Nepali Staffs from Pokhara – Jomsom – Pokhara
Eleven Nights and Twelve Days Full Board Trek – One circle of meal, – Accommodation in Teahouse (common room with twin sharing basis)
One Govt. Licensed Trekking Guide
One porter for every two pax with maximum of 25 kg weight
All necessaries for Nepali staffs (All Meals, Accommodation, Transportation, Insurance, Equipment, Salary etc)..
Cost Exclusion
Comprehensive Travel Insurance covering Trip Cancellation Charge and Emergency Rescue
Gear or Equipment y – Please ask for any advice to Bring/Buy/Rent
Excess Baggage Charges (Maximum 15 kg weight in Remote Domestic Flights)
Personal Expenses i.e. Mineral Water, Soft drink, Bar Bills, Extra Snacks i.e. Starter/Desert/Soup, Laundry, IST/STD calls, Postage, Entrance Fees and Photography Fees in Monasteries,
Extra charges that Teahouse owners may levy Attached Bathrooms, Hot-shower (if available), Charging of batteries etc
Local Donations if any
Unforeseen expenses due to Flight Delays, Natural Calamities, Political Unrest or Fuel Shortage
Lunch and Dinner in Kathmandu and Pokhara
Services other than mentioned above
Tips
06 Request A Quote
For Queries & Reservations
Group travel is a great way to discover new adventures and create memories that last forever . Choose your trip with guaranteed departure dates and join us now.
Chhewang N.Lama +977-9801046333 / +977-1-4813166
info@responsibletreks.com