Trip Style:

TT 3

Ways to Travel:

Hiking, Tour, Trekking, Flight

Activities:

Tibet Tour

Group Size:

2-14

High Altitude

5365 m.
Activity Level:
Easy

Trip Overview
Humla is an important gateway for the holy Mount Kailash and the mythical Lake Manasarovar.
Simikot, in Far Western Nepal's Humla District, is one of the world's most remote & beautiful regions and is the starting point of our trek into the 'Kailash Mandala'. We travel along ancient pilgrimage routes and trading links, trekking across the border into Tibet to Mt Kailash, the sacred Lake Manasarovar, representing purity and Lake Rakshas Tal, representing power. Hindus, Buddhists, Jain and Bon followers see the 6714m high Mount Kailash as the holiest mountain on earth. It is considered to be the abode of the great Hindu God Shiva, as well as the axis of the universe, from which four rivers, the Indus, Brahmaputra, Sutlej and the Karnali have their source and flow into the four directions. Stepping on the shore and taking a bath in Lake Manasarowar, or drinking from the water cleans the sins of a hundred rebirths. From Hilsa you cross the border to Sera (also spelled Sher). Here jeeps are waiting to drive you northwards past Gurla Mandata mountain to the shores of Lake Manasarovar and Rakshas Lake. You can walk (part of) the 'kora' (Tibetan) or 'parikrama '(sanskrit), a holy-walk, circumambulating the lake. In summer, wild geese and Himalayan swans swim on its waters. There are eight gompas around the lake, of which six have been rebuilt.
From the lake you drive to Darchen, situated at the foot of Mount Kailash. From Darchen (also spelled as Tarchen), you can make the 'kora' or 'parikrama ', the holy walk circumambulating the mountain in clockwise direction, in 3 days. You share the trail with many Hindu, Jain, Buddhist and Bon pilgrims. The last ones circle the mountain anti-clockwise. Most Buddhist people are walking with their prayer wheels spinning at all times, mumbling their prayers. You see some prostrating the whole kora. The kora goes through an impressive desolate landscape, the Mount Kailash towering high above you many times. Mount Kailash resembles a huge natural temple. Stones, springs and hills along the way have a deeper religious meaning to the pilgrims. All along the way you encounter Buddhist shrines, like chörten, mani walls, holy footprints and of course Buddhist monasteries. The kora (parikrama) goes over a high pass of 5630 meter, the Drolma La (also spelled as Dolma La). For pilgrims this pass is, besides being the highest point, the spiritual highlight of their odyssey. The pass is decorated with masses of prayer flags and out of devotion people leave clothes, coins and other personal belongings here. Devout pilgrims mumble their prayers and ring the brass bells in front of the holy rock in which, according to legend the goddess Drolma disappeared after she had guided the first pilgrim here. To pilgrims it is the symbolic passage through the gates of death after which one is cleansed and prepared for a good rebirth.
Simikot Trek to Kailash and Drive to Kyirong -Rasuwa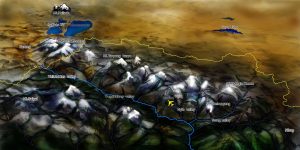 Map:@wang Lama Art Kailash
Inclusions & Details
Cost Inclusion
All the permits & monasteries entrance fee of Tibet
Tibetan guide from China Tibet Tourism Board (CTTB)
1 highly experienced Nepali guide who speak Nepali & Tibetan -normally lead more then 10 times in kailash Region
1 cook and kitchen support staff in Nepal part & Same in Tibet part
Mules or porters for luggage up to Nepal – China border.
Yaks and Yak men for luggage while Kailash parikrama.
All meals during the treks
Twin sharing basis room with Dinner and breakfast in Nepalgunj.
Guesthouses in Purang,Darchen, Dongba and Kyirong
All camping and cooking equipments.
All camping Charges.
Chinese visa fee of client
Airfare Kathmandu / Nepalgunj / Simikot
Nepal restricted area permit fee USD 50 per person
All pick up and drop services.
Cost Exclusion
Travel insurance of clients
Any International Flight ticket
Photography fees in the monuments
Gratitude to your guide and Driver
Expenses of a personal nature (beverages, laundry, phone call, etc.)
Any cost incurred in emergency evacuation due to any reason.
Others' which is not mentioned on the above included items…
06 Request A Quote
For Queries & Reservations
Group travel is a great way to discover new adventures and create memories that last forever . Choose your trip with guaranteed departure dates and join us now.